01.12.2014 | Research article | Ausgabe 1/2014 Open Access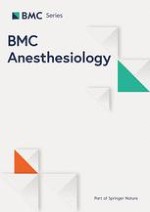 Usefulness of N-terminal pro-B-type natriuretic peptide in patients admitted to the intensive care unit: a multicenter prospective observational study
Zeitschrift:
Autoren:

Chin Kook Rhee, So Yeon Lim, Shin Ok Koh, Won-Il Choi, Young-Joo Lee, Gyu Rak Chon, Je Hyeong Kim, Jae Yeol Kim, Jaemin Lim, Sunghoon Park, Ho Cheol Kim, Jin Hwa Lee, Ji Hyun Lee, Jisook Park, Younsuck Koh, Gee Young Suh, Seok Chan Kim, Validation of Simplified acute physiology score3 in Korean Intensive care unit (VSKI) study group & the Korean study group on respiratory failure (KOSREF)
Wichtige Hinweise
Electronic supplementary material
The online version of this article (doi:
10.​1186/​1471-2253-14-16
) contains supplementary material, which is available to authorized users.
Competing interests
The authors declare that they have no competing interests.
Authors' contributions
RCK, LSY, KSH, CWI, LYJ, CGR, KJH, KJY, LJ, PS, KHC, LJH, LJH, PJ, KY, SGY, and KSC participated in the design of the study. RCK, LSY, KSH, CWI, LYJ, CGR, KJH, KJY, LJ, PS, KHC, LJH, LJH, PJ, KY, SGY, and KSC participated in the collection of data. RCK, LSY, SGY and KSC performed the statistical analysis. RCK and KSC wrote the manuscript. All authors read and approved the final manuscript.
Abstract
Background
The role of N-terminal pro-B-type natriuretic peptide (NT-pro-BNP) as a prognostic factor in patients admitted to the intensive care unit (ICU) is not yet fully established. We aimed to determine whether NT-pro-BNP is predictive of ICU mortality in a multicenter cohort of critically ill patients.
Methods
A total of 1440 patients admitted to 22 ICUs (medical, 14; surgical, six; multidisciplinary, two) in 15 tertiary or university-affiliated hospitals between July 2010 and January 2011 were assessed. Patient data, including NT-pro-BNP levels and Simplified Acute Physiology Score (SAPS) 3 scores, were recorded prospectively in a web-based database.
Results
The median age was 64 years (range, 53–73 years), and 906 (62.9%) patients were male. The median NT-pro-BNP level was 341 pg/mL (104–1,637 pg/mL), and the median SAPS 3 score was 57 (range, 47–69). The ICU mortality rate was 18.9%, and hospital mortality was 24.5%. Hospital survivors showed significantly lower NT-pro-BNP values than nonsurvivors (245 pg/mL [range, 82–1,053 pg/mL]
vs
. 875 pg/mL [241–5,000 pg/mL], respectively;
p
 < 0.001). In prediction of hospital mortality, the area under the curve (AUC) for NT-pro-BNP was 0.67 (95% confidence interval [CI], 0.64–0.70) and SAPS 3 score was 0.83 (95% CI, 0.81–0.85). AUC increment by adding NT-pro-BNP is minimal and likely no different to SAPS 3 alone.
Conclusions
The NT-pro-BNP level was more elevated in nonsurvivors in a multicenter cohort of critically ill patients. However, there was little additional prognostic power when adding NT-pro-BNP to SAPS 3 score.