24.08.2020 | Original Article | Ausgabe 2/2021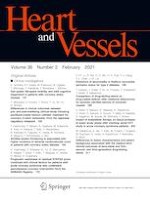 Usefulness of subcutaneous implantable cardioverter-defibrillator therapy in patients with Brugada syndrome
Zeitschrift:
Autoren:

Tetsuji Shinohara, Ichitaro Abe, Kei Hirota, Hidekazu Kondo, Akira Fukui, Hidefumi Akioka, Yasushi Teshima, Kunio Yufu, Mikiko Nakagawa, Naohiko Takahashi
Wichtige Hinweise
Publisher's Note
Springer Nature remains neutral with regard to jurisdictional claims in published maps and institutional affiliations.
Abstract
Implantable cardioverter-defibrillators (ICDs) are the main therapy to prevent sudden cardiac death in patients with Brugada syndrome (BrS). The subcutaneous ICD (S-ICD) can eliminate lead-associated complications compared with transvenous ICD (TV-ICD). However, S-ICD is susceptible to T-wave oversensing (TWOS) and may result in more frequent inappropriate shocks in patients with BrS. This study aimed to compare inappropriate shocks between TV-ICD and S-ICD in patients with BrS. We enrolled 32 patients with BrS (including one woman; mean age 52 ± 18 years) who were implanted with ICD (23 TV-ICDs and 9 S-ICDs) between January 2002 and November 2018 in Oita University Hospital. We carried out a standard surface electrocardiogram (ECG) screening tests in both supine and standing positions prior to S-ICD implantation. The patients received routine clinical review every month and device monitoring every 4 months. The period of follow-up was 129 ± 51 months. Six patients with BrS and TV-ICDs experienced inappropriate shocks (26%) with their ICD therapy. In contrast, two patients with BrS and S-ICDs experienced inappropriate shocks (22%). There was no significant difference between the two groups (
P
 = 0.82). Although one case in the S-ICD group experienced TWOS-induced inappropriate shock, SMART Pass (new high-pass filter) prevented the subsequent recurrence of inappropriate shocks during ICD therapy. Our results suggest that S-ICD is not inferior to TV-ICD in the incidence of inappropriate shocks. SMART Pass may be a useful tool to prevent inappropriate ICD shocks by TWOS in patients with BrS.