01.12.2011 | Research article | Ausgabe 1/2011 Open Access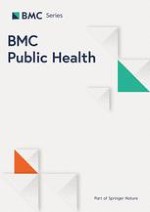 Using spatial analysis to demonstrate the heterogeneity of the cardiovascular drug-prescribing pattern in Taiwan
Zeitschrift:
Autoren:

Ching-Lan Cheng, Yi-Chi Chen, Tzu-Ming Liu, Yea-Huei Kao Yang
Wichtige Hinweise
Electronic supplementary material
The online version of this article (doi:
10.​1186/​1471-2458-11-380
) contains supplementary material, which is available to authorized users.
Competing interests
The authors declare that they have no competing interests.
Authors' contributions
CLC, YCC, TML, and YHKY designed the study. CLC and TML analyzed the data. CLC and YCC drafted the initial article. All authors were involved in critical evaluation and editing of the manuscript and read and approved the final version.
List of abbreviations
AMI
Acute myocardial infarction
ATC
Anatomical Therapeutic Chemical
GIS
Geographic Information Systems
LISA
Local Indicators of Spatial Association
NHIRD
National Health Insurance Research Database
WHO
World Health Organization
Background
Methods
Results
Geographic map and geographic distribution of drugs consumption
Figure
1
illustrates the administrative division across 352 townships in Taiwan, including 5 major metropolitan areas, 2 secondary metropolitan areas, 206 rural areas, and 55 aboriginal townships.
The pattern of drug consumption across townships indicated the highest utilization was of Group C followed by Group A, Group B, Group D, and Group O. (Table
1
) Among all groups of drugs, variations in consumption by metropolitan areas were the largest in Hsinchu (COV = 100 to 119%), followed by Tainan (COV = 71 to 106%), rural township (COV = 55 to 102%) and aboriginal area (COV = 38 to 98%).
Table 1
The distribution of cardiovascular medications consumption by urbanicity, data presented as mean ± (SD)a
| | Population (%) | Group Ab | Group B | Group C | Group D | Group O |
| --- | --- | --- | --- | --- | --- | --- |
| Taipei-Keelung metropolitan area (N = 44) | 6,609,220 (29.4) | 32.2 (42.0) | 18.1 (22.1) | 32.3 (43.4) | 10.2 (12.8) | 2.7 (4.7) |
| Taoyuan-Chungli metropolitan area (N = 12) | 1,846,082 (8.2) | 40.9 (79.5) | 20.0 (34.9) | 40.4 (72.0) | 11.7 (23.9) | 2.4 (2.8) |
| Hsinchu secondary metropolitan Area (N = 10) | 682,132 (3.0) | 18.2 (15.9) | 11.0 (9.2) | 21.2 (18.4) | 6.1 (5.7) | 1.1 (1.1) |
| Taichung-Changhwa metropolitan area (N = 18) | 2,092,344 (9.3) | 41.7 (60.3) | 24.1 (33.2) | 45.6 (71.5) | 13.5 (20.6) | 3.5 (4.4) |
| Chiayi secondary metropolitan area (N = 4) | 373,774 (1.7) | 36.5 (42.8) | 19.5 (19.6) | 40.1 (49.5) | 13.1 (17.6) | 4.3 (5.9) |
| Tainan metropolitan area (N = 14) | 1,246,084 (5.5) | 27.1 (26.7) | 15.6 (14.6) | 31.7 (32.9) | 7.2 (7.4) | 2.7 (3.8) |
| Kaohsiung metropolitan area (N = 28) | 2,758,140 (12.2) | 43.9 (94.0) | 23.0 (37.8) | 45.7 (82.5) | 12.5 (24.6) | 3.7 (4.5) |
| Rural townships area (N = 167) | 6,100,872 (27.1) | 18.2 (18.2) | 10.7 (10.4) | 19.3 (21.1) | 5.7 (7.8) | 1.6 (2.9) |
| Aboriginal townships area (N = 55) | 812,703 (3.6) | 25.3 (26.5) | 10.4 (10.6) | 19.6 (22.7) | 7.7 (9.5) | 1.3 (3.4) |
| Total (N = 352) | 22,521,351 (100) | 25.7 (40.8) | 13.9 (19.1) | 26.0 (40.3) | 7.9 (12.7) | 2.1 (3.6) |
We did not observe any significant difference in cardiovascular medication consumption between northern and southern areas: Group A (21.2 ± 33.6, 17.8 ± 40.5; p = 0.67), Group B (11.8 ± 17.2, 10.1 ± 17.5; p = 0.51), Group C (20.8 ± 34.9, 19.0 ± 38.3; p = 0.86), Group D (6.3 ± 10.9, 5.6 ± 13.5; p = 0.83) and Group O (1.5 ± 3.1, 1.5 ± 3.4; p = 0.70), respectively.
LISA statistics for cardiovascular drugs
Figure
2
displays plots of the LISA statistics for each class of cardiovascular drug utilization. The marked polygons indicated areas with significant spatial clustering, while the blank polygons indicated areas with insignificant spatial clustering.
×
There were wide variations in utilization of all drug classes across the 352 townships in Taiwan. From the first glimpse of the LISA figures, under-utilization appeared to be the predominant spatial pattern for cardiovascular disorders across all drug classes: the total number of high-high associations (hot spots) amounts to 35, while low-low associations (cold spots) reaches to 85. Such spatial variations carried three statistical meanings: (1) variations were non-random; (2) variations were statistically significant; (3) variations exhibited effects of neighboring interactions.
North-south discrepancy distribution
Focusing on the west of Taiwan, where more than 97 percent of the population resides, patterns of drug use exhibited more high-high associations clustered in the southern (n = 30) than northern (n = 2) townships. Thus the southern region had higher-than-average utilization of cardiovascular drugs than other parts of Taiwan. However, at the same time, the number of low-low associations also presented in southern (n = 42) more than northern areas (n = 33).
Tables
2
summarizes the distribution of spatial associations for each drug class by the levels of urbanization. Among all drug classes, a large number of significant LISA statistics were observed in metropolitan areas followed by aboriginal, rural, and secondary metropolitan areas. Among those metropolitan areas, the significant LISA statistics were mostly observed in the southern townships such as Kaohsiung and Tainan city. In other words, with each prescription drug, more observations were correlated with their neighboring values, giving evidence of possible diffusion effects of drug use.
Table 2
The spatial analysis of five category cardiovascular medications by urbanicity, data presented as N (%)
Group Ad

Group B

Group C

Group D

Group O

Ha

Lb

H

L

H

L

H

L

H

L

Taipei-Keelung metropolitan area (N = 44)

1 (2.3)

4 (9.1)

0 (0.0)

2 (4.5)

0 (0.0)

4 (9.1)

1 (2.3)

3 (6.8)

0 (0.0)

5 (11.4)

Hsinchu secondary metropolitan Area (N = 10)

0 (0.0)

0 (0.0)

0 (0.0)

0 (0.0)

0 (0.0)

1 (10.0)

0 (0.0)

3 (30.0)

0 (0.0)

0 (0.0)

Tainan metropolitan area (N = 14)

0 (0.0)

0 (0.0)

0 (0.0)

2 (14.3)

0 (0.0)

0 (0.0)

0 (0.0)

2 (14.3)

0 (0.0)

0 (0.0)

Kaohsiung metropolitan area (N = 28)

2 (7.1)

1 (3.6)

3 (10.7)

2 (7.1)

4(14.3)

3 (10.7)

4 (14.3)

1 (3.6)

2(7.1)

1 (3.6)

Rural townships area (N = 167)

3 (1.7)

7 (4.0)

3 (1.7)

7 (4.0)

4 (2.3)

6 (3.5)

2 (1.2)

6 (3.5)

1 (0.6)

6 (3.5)

Aboriginal townships area (N = 55)

0 (0.0)

5 (9.1)

1 (1.8)

4 (7.3)

1 (1.8)

4 (7.3)

2 (3.6)

2 (3.6)

1 (1.8)

4 (7.3)

Total (N = 352)c

6 (1.7)

17 (4.8)

7 (2.0)

17 (4.8)

9 (2.6)

18 (5.1)

9 (2.6)

17 (4.8)

4 (1.1)

16 (4.5)
By drug class, both Group C and Group D had the highest amount of diverse clusters across the country, followed by Group B, Group A, and Group O. Hot spot areas concentrated mostly in the Kaohsiung and rural areas among all drug classes (Table
2
). In contrast, cold spot areas showed up in rural and aboriginal townships areas, accounting for a particularly high portion of group A, followed by group B, group C, group O, and group D.
Discussion
Our study showed a variability of cardiovascular prescription patterns with regard to geographic differences in Taiwan. The analysis of both HH and LL associations strongly indicated that there exists a discrepancy in drug use between the north and the south of Taiwan, and the southern areas exhibited spatial clustering of unusual utilization in cardiovascular drugs. There are two possible explanations for this finding. First, the disease prevalence may be different between the north and south in Taiwan as a result of urbanization levels. The prevalence of cardiovascular disease, such as hypertension and coronary heart disease, varies between the urban and rural areas. Some countries reported the prevalence was higher for people living in the urban than rural areas [
31
,
32
], while others, including Taiwan, presented evidence to the contrary [
33
,
34
]. Second, there were urban-rural differences in the appropriateness of disease treatment and the inclination of patients to receive medical care. Previous studies have documented regional variation in quality of care in cardiovascular disease [
22
,
35
]. Patients hospitalized for acute myocardial infarction (AMI) in rural hospitals were less likely to receive recommended intervention than in urban hospitals. In addition, inappropriate or lower utilization of health care could be associated with lower socioeconomic status of patients in rural areas [
36
,
37
].
Utilization of cardiovascular drugs appeared to be associated with different classes of pharmacological drugs among geographic regions. We found that underutilization of all classes of drugs was more likely to be observed than overutilization, and the former was scattered mainly in the southern, rural, and aboriginal townships. (Figure
2
) It seemed to suggest a wide variation in prescribing behavior. Drug Group A, Group B, and Group C were generally the most widely used drugs for the treatment of cardiovascular diseases [
38
]; however, there were large variations across townships with regard to the use of drugs. A study conducted in France reported the socio-economic status at the area level influenced the utilization of specialty care [
39
]. Differences between general practitioners and other specialties have been described in relation to the use of cardiovascular medicines [
40
–
42
]. For example, compared with cardiologists, family practitioners and general internists probably underutilize ACE inhibitors due to less knowledge about heart failure and poor adherence to guidelines [
42
]. Among seventeen townships where ACE inhibitors were underutilized, we found that a clinic for primary care is the major medical resource in these areas [
43
]. In addition, there are three aboriginal townships have the High-High hotspot. They tend to over-utilize Group B, C, D and O but not ACEI inhibitors. This might be attributable to the fact that the aboriginal residents only have access to general practitioners and medical treatment by specialists is lacking. Accordingly, the spatial patterns of drug use observed in this study suggested that there was a wide variation in physicians' prescribing behavior across Taiwan, to the extent that medical resources were not consistently utilized among 352 townships.
Utilization of cardiovascular drugs also associated with the disease patterns appeared to be different between townships. Some studies showed that rural residents are at higher risk for the burden of major diseases such as cardiovascular disorder and the severity of their complications [
33
,
44
]. In contrast, other studies showed that higher prevalence rates of cardiovascular risk factors were found in urban than rural areas due to diet and stressful life styles [
31
,
45
]. Drug choice should be based on clinical features of patients. For instance, rennin-angiotensin system agents have greatly improved clinical outcomes in patients with renal complications, [
46
] or diuretics are first-line agents for elderly hypertensive patients without other complications [
47
].
Spatial analytical methods recognize that spatial concordance between two proximal entities is closely connected by intrinsic causal relationship or hidden confounders. Although the geographical variations in drug use were widely documented, the concept of spatial dependence has received little attention in pharmacoepidemiology. It was our intention in this study to establish that "spatial perspectives in pharmacoepidemiology" would be an effective method in detecting the variation of drug utilization. That is, unusual drug prescriptions are not randomly located across locations but tend to be concentrated within certain areas.
LISAs are simply local derivations or disaggregation of global measures of spatial autocorrelation, and allow one to detail the information of local variations in spatial autocorrelation (e.g., hot spots and cold spots) for further study consideration[
48
]. This method is useful to indicate spatial correlation of similar values at location
i
and its neighborhood. This means that location
i
and its neighborhood can both have values above the average value (hot spots), or both can have values below the average (cold spots). Such local variations in spatial autocorrelation are statistically significant. Departure from the classical assumption of statistical independence, the spatial clusters represent that data are not randomly distributed over the global region and can occur because there is a contagious factor to the underlying process that is commonly shared by the clustered region. Lack of the factor that triggers spatial dependence does not give rise to spatial clustering.
The primary strength of this study was that we incorporated GIS and tools for spatial analysis to explore the role of geography in drug utilization. In so doing, we were able to divert our examination from the traditional framework, which only considers individual decision-making, into the spatial realm. Epidemiologic investigations are commonly involved with data from contiguous or proximal geographic areas, where neighboring locations may share similar prescribing patterns due to, for example, inhabitants' lifestyle behaviors or environmental exposures. Although the trend in utilization of cardiovascular drugs in Taiwan was investigated, little was known regarding its geographical pattern across townships. The spatial analysis presented here may add essential information to pharmacoepidemiological studies and policy-making. On the one hand, spatial analysis allows us to examine spatial processes underlying the prescribing behavior of physicians and provides the first inquiry into whether spatial components should be accounted for in modeling to avoid erroneous inference [
49
]. On the other hand, given the limited resources, the government can focus their policy efforts to target areas to improve drug utilization. For the reasons described above, our approach should be applicable worldwide. Developing countries, for which medical resources are increasingly disproportionately distributed, may see more distinct prescribing patterns than those for Taiwan or other developed countries.
Although spatial analysis with Moran's
I
is useful for this study, it does have limitations of which all should be aware. First, Moran's
I
(and other global indicators) is not powerful enough to differentiate well between a random pattern and a pattern without substantial spatial variations. Second, Moran's
I
is conditional, tied to how we define localities through a spatial weights matrix
w
ij
. Different definitions of the matrix can lead to different values of spatial dependence. Finally, the measures of spatial dependence are subject to the modifiable areal unit problem. The problem arises due to the arbitrary choice and the modifiable nature of areal units in spatial analysis, in the sense that they can be aggregated to form units of different sizes of spatial arrangements. The degree of spatial association, as measured by Moran's
I
, changes with different levels of aggregation in areal units. While we are aware of the limitations of the spatial autocorrelation index, our results in this paper can be interpreted as a broad indication of the presence and magnitude of spatial dependence.
Other potential limitations of our study also should be noted. First, the utilization pattern of cardiovascular medications could be different as urbanization changes. Second, we only analyzed the classes of cardiovascular drugs based on the first three digits of ATC which have DDD assigned. Although we were able to depict the spatial patterns of drug use, whether the knowledge of new drugs was attributable to the geographic clustering requires a detailed classification of drug classes based on ATC. Third, we might underestimate the utilization of group A, B, D because complex medication (i.e., a compound made of two or more ingredients) without DDD assigned were not estimated in this study. The most complex medication are combinations with group D (i.e., group A plus group D or group B plus group D) to improve patient's compliance. Fourth, this study only analyzed one year of data, but the prescribing pattern could extend across years. Fifth, the cardiovascular medication pattern did not correspond to disease distribution. Most patients need two more classes of medication to control their disease, except simple essential hypertension[
47
]. Finally, the fact that we have observed significant spatial autocorrelation in our data does not determine whether these are true spatial effects or are spurious in the sense that they can be attributed entirely to patterns in other variables, such as income or individual characteristics (such as age, gender, etc). If we control for all of these other factors and the spatial variable remains significant, then we have evidence that the patterns are consistent with a neighborhood effect and are not solely attributable to socioeconomic characteristics of these areas. Exploring theses sources of spatial patterns and the mechanisms that may be driving them is an obvious extension of the analysis presented here, and more detailed studies are necessary to better understand the factors that influence prescribing patterns.
Conclusions
The cardiovascular medication prescribing patterns were heterogeneous across Taiwan. In particular, a clear pattern of north-south disparity exists. The spatial variability of prescribing patterns documented in this study shows that priority-setting in research may heavily depend on the neighborhood association.
Acknowledgements
This research was funded by the Taiwan National Science Council (NSC 96-2320-B-006-028-MY3) and Multidisciplinary Center of Excellence for Clinical Trial and Research (DOH100-TD-B-111-002), Department of Health, Executive Yuan, Taiwan. The funding source had no role in the design, analysis, interpretation, or reporting of results or in the decision to submit the manuscript for publication.
Competing interests
The authors declare that they have no competing interests.
Authors' contributions
CLC, YCC, TML, and YHKY designed the study. CLC and TML analyzed the data. CLC and YCC drafted the initial article. All authors were involved in critical evaluation and editing of the manuscript and read and approved the final version.