01.12.2015 | Research | Ausgabe 1/2015 Open Access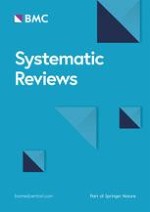 Using text mining for study identification in systematic reviews: a systematic review of current approaches
Zeitschrift:
Autoren:

Alison O'Mara-Eves, James Thomas, John McNaught, Makoto Miwa, Sophia Ananiadou
Wichtige Hinweise
Electronic supplementary material
The online version of this article (doi:
10.​1186/​2046-4053-4-5
) contains supplementary material, which is available to authorized users.
Competing interests
The authors declare that they have no competing interests.
Authors' contributions
JT and AOM conceived the study and wrote the protocol. AOM conducted the principal data extraction and took the lead on writing this paper. JT undertook 2
nd
data extraction and journal submission, assisted with writing the paper, and made amendments in the light of peer reviewers' comments. JM, MM and SA contributed domain expertise and wrote sections of the paper. The authors authored three of the studies included in the review [
31
,
45
,
57
]. All authors read and approved the final manuscript.
Abbreviations
FNLR
false negative learning rate
HTA
health technology assessment
LISTA
Library, Information Science & Technology Abstracts
NLP
natural language processing
WSS
work saved over sampling.
Background
The problem: lack of precision in systematic searches
Reviewers are thus faced with two competing demands. Reviews that are to be used to inform policy and practice often need to be completed to externally defined (often short) timetables within limited budgets; but in order for a review to be an accurate reflection of the state of knowledge in a given area, it needs to be comprehensive.
Proposed 'solution': the (semi)-automation of screening
Broadly speaking, text mining is defined as the process of discovering knowledge and structure from unstructured data (i.e., text) [
17
,
18
]. In the context of finding research for inclusion in a review, we are interested in automated techniques of discovering whether a given study (described by a title and abstract) is relevant to our review [
19
,
20
]. There are two ways of using text mining that are particularly promising for assisting with screening in systematic reviews: one aims to prioritise the list of items for manual screening so that the studies at the top of the list are those that are most likely to be relevant; the second method uses the manually assigned include/exclude categories of studies in order to 'learn' to apply such categorisations automatically [
19
]; whilst the technologies to perform each may be similar, we separate them here as they are conceptually distinct. The prioritisation of relevant items may not appear to reduce workload (if all citations are to be screened manually anyway), but when there are large numbers of studies to screen manually, identifying most of the relevant ones quickly enables some members of a reviewing team to begin the next stages of the review, whilst the remainder of mostly irrelevant citations are screened by other team members. This reduces the time from review commencement to completion, even if the total workload remains the same.
By reducing the burden of screening in reviews, new methodologies using text mining may enable systematic reviews to both: be completed more quickly (thus meeting exacting policy and practice timescales and increasing their cost efficiency); AND minimise the impact of publication bias and reduce the chances that relevant research will be missed (by enabling them to increase the recall of their searches). In turn, by facilitating more timely and reliable reviews, this methodology has the potential to improve decision-making across the health sector and beyond.
The research problem
Whilst the logic behind applying text mining to the screening stage of systematic reviews has intuitive appeal, there are obvious concerns that might be raised by the systematic review community [
21
]. Firstly, there is not a lot of information about text mining written for systematic review audiences. The vast majority of papers on this topic are produced by computer scientists in journals and conference proceedings in the field of medical informatics or artificial intelligence. This means that they are not particularly accessible to systematic reviewers who need to make decisions about their review processes, both in terms of the level of technical detail presented in the reports and in the exposure such papers would have in systematic review communities.
Secondly, for these technologies to achieve broad uptake, they should be accessible to systematic reviewers without the need for a computer scientist to write bespoke code or undertake custom processing of text for individual reviews. Specialist advice may be required, but it should be akin to the need for occasional specialist statistical advice, rather than being at the level of operating the text mining tools. Any implementation issues need to be identified and resolved before rolling such technologies out to the intended users.
Thirdly, there are various ways in which workload could be reduced through these technologies (reducing number needed to screen; text mining as a second screener; increasing the rate (speed) of screening and improving workflow through screening prioritisation). However, not all technologies allow all types of workload reduction to be achieved. In order to make informed decisions about using such technologies, systematic reviewers need to know which technologies can be used for which workload reduction goal.
Fourthly, systematic reviews are a relatively new area in which text mining technologies have been applied. Some of the assumptions of text mining technologies in other applications do not hold when transferred to the review context. For instance, systematic reviewers generally place strong emphasis on high recall—that is, a desire to identify all the relevant includable studies—even if that means a vast number of irrelevant studies need to be considered to find them. When applied in other areas, precision (reducing the number of irrelevant items) and accuracy (correctly classifying items as relevant or irrelevant) are typically more valued. To be acceptable to the systematic review community, new technologies must address the particular challenges and demands of this context (We should also note at this point that we have no guarantee of perfect recall even with current methods, as search strategies are tailored to the resource available to screen results, and humans are likely to make mistakes during their manual sifting through records.).
Finally, the methods, their relative success and the metrics used to evaluate them have not yet been pulled together in a systematic way; this current study aims to fill that research gap.
Aims and research questions of the review
The primary aim of this review is to gather and present the available research evidence on existing methods for text mining related to the title and abstract screening stage in a systematic review, including the performance metrics used to evaluate these technologies a. The purpose of this is to inform systematic reviewers of the current state of text mining methods for use in reducing workload at the screening stage, with a consideration of the potential benefits and challenges when implementing such technologies. Whilst we have explored the more technical aspects of text mining technologies in our data extraction, the intended audience of this paper are users of the technologies rather than computer scientists, and so technical issues are largely dealt with at a conceptual level.
Following directly from the research problem as delineated above, we looked to answer the following questions:
1.
What is the state of the evidence base related to automating (or semi-automating) the screening stage (based on titles and abstracts) of a systematic review? Specifically,
a.
What methods are available; and
b.
How has the field developed over time?
2.
How has the workload reduction issue been evaluated? Specifically,
a.
What has been compared, using what research study designs?
b.
What metrics are available for evaluating the performance of the approaches?
3.
What are the stated purposes of (semi-)automating the screening stage through text mining in terms of workload reduction, what types of methods have been used to address each purpose, and how effective were they?
4.
How, and with what effect, have key contextual problems of applying text mining to systematic review screening been addressed, specifically as relates to the following challenges:
a.
The importance of high recall for systematic reviews?
b.
The risk of hasty generalisation when training from a certain pool of known includes and excludes?
c.
The problem of imbalanced datasets, in which there are typically many more excludes than includes?
d.
Applying the technologies to review updates?
5.
What challenges to implementation emerge from reviewing the evidence base?
Methods
We conducted a systematic review of research papers on applications of text mining to assist in identifying relevant studies for inclusion in a systematic review. The protocol can be sent on request by the authors.
Information management
All records of research identified by searches were uploaded to the specialist systematic review software, EPPI-Reviewer 4, for duplicate stripping and screening [
22
]. This software recorded the bibliographic details of each study considered by the review, where studies were found and how, reasons for their inclusion or exclusion, descriptive and evaluative codes and text about each included study, and the data used and produced during synthesis.
Search methods
Database and website searches were conducted in December 2013. Sources were searched from 2005 onwards. This date was chosen because, according to Jonnalagadda and Petitti [
23
], the first proposed application of text mining to screening in systematic reviews was in 2005 (though this was not an evaluation of a method and so was not included in our review).
Details of the electronic search strategy, including databases searched and terms used, can be found in Additional file
1
: Appendix A; the PRISMA flow diagram can be viewed in Additional file
2
: Flow diagram.
We also included papers known to the team and as recommended by colleagues. We checked the reference lists of all included studies for additional relevant studies. We also followed forward citation recommendations in Science Direct. A cut-off for identifying studies for inclusion in the review was set at 28 February 2014.
After all searches were completed, 1,253 records were identified. These were screened for relevance to our review using the inclusion criteria outlined below.
Inclusion criteria
Studies were screened in a two-stage screening process. First, records were assessed against the following criteria based on their titles and abstracts:
1.
Must be published after 2004
2.
Must be relevant to text mining
3.
Must be relevant to the screening (document selection) stage of a systematic review (or a review of the evidence that follows systematic principles, such as health technology assessment (HTA) or guidelines development)
After an initial piloting of the first stage criteria to establish common understanding of the criteria, records were screened once by two researchers (AOM and JT) who are familiar with systematic reviewing and text mining methods. Any records of doubtful relevance were marked with a 'query' tag and discussed by the two researchers until agreement was met (Agreement was always reached, and so recourse to a third reviewer was not required.).
The full-text documents of records that met these criteria (
n
 = 69) were retrieved and proceeded to the second stage of screening. The criteria for assessing the full-text documents were:
1.
Must be relevant to text mining methods or metrics
2.
Must be relevant to the screening stage of a systematic review (or similar evidence review)
3.
Must not be a general discussion of the use of text mining in systematic reviewing screening. That is, the record must present a detailed method or evaluation of a method.
The second stage of screening was conducted by one researcher (AOM), with queried records checked by the second researcher (JT) (reviewer agreement was 100% at this stage). After full-text screening, a total of 44 records were identified as relevant to the review questions.
Data extraction
Data extraction was conducted by one researcher (AOM) and checked for accuracy and completeness by a second researcher (JT) and discrepancies resolved by a second check and/or discussion. We extracted and recorded information on the following broad issues (see Additional file
1
: Appendix B for the full data extraction tool, Appendix C for the list of studies included in the review and Appendix D for the characteristics of included studies):
● Bibliographic details

● Evaluation context (details of review datasets tested)

● Evaluation of active learning (if applicable) (see below for definition)

● Evaluation of classifier

● Evaluation of feature selection

● Implementation issues

● About the evaluation (the methodology and metrics used)

● Study type descriptors

● Critical appraisal

● Comments and conclusions
Extraction consisted of two types of data: direct quotations from the papers, which were gathered through line-by-line coding of the papers; and categorical data, which were gathered by noting the presence or absence of certain characteristics. These two types of data were collected simultaneously. For example, a tick box was checked if a study reported using a support vector machine (SVM) classifier, and line-by-line coding of text that described the SVM was associated with that tick box in the EPPI-Reviewer 4 software [
22
].
Synthesis methods
The reviewers discussed the key issues that needed to be covered in the review, as well as themes that had emerged through extracting data from the studies. On that basis, an outline structure for the synthesis was developed. Under the outline subheadings, a narrative was developed that drew on both the line-by-line coded text and the categorical data. The categorical data allowed for the generation of frequency tables and cross tabulations that described the state of the evidence base; whilst the coded text allowed for a richer interrogation of the emerging themes.
Results
The results are presented in order of the research questions posed. Since some issues raised apply beyond the systematic review context, which limited the range of papers about text mining that we formally included, we have inserted some commentary (entitled 'further information on this topic') where information from other domains may illuminate a specific issue.
Discussion
Summary of key findings
This review asked five research questions, which we have addressed through synthesising the evidence from 44 evaluations of the use of text mining for reducing screening workload in systematic reviews.
The
first research question
related to the state of the evidence base, which we conclude to be both active and diverse. The timeline indicates that the field is evolving rapidly, with new issues being tackled almost every year since its application to systematic reviews. However, this also hints at an issue that was elaborated on throughout this paper—that is, there is almost no replication between studies or collaboration between research teams, making it difficult to establish any overall conclusions about best approaches.
The
second research question
related to the purpose of using text mining to reduce workload and the methods used for each purpose. For reducing the number needed to be screened, it is reasonable to assume that the more interactive approach offered by a ranking or prioritisation system and the active learning approaches will have greater user appeal than a strict classifier approach in 'new' reviews (as opposed to review updates). This is because reviewers might be uncomfortable with handing over too much control to an automated system. Also, when using a ranking or prioritisation approach, reviewers are able to search more sensitively than is currently the norm and screen the same number of studies as they currently would; the effort spent screening manually would thus be focused on those studies identified as being the
most relevant
retrieved in the search, enabling these reviews to identify more relevant studies than is currently the case.
For using text mining to replace a second human screener, classifiers were used to make explicit in/out decisions and those decisions were compared with a human reviewer. This approach is likely to have strong appeal amongst the systematic review community because, whilst it reduces the resources required to screen items, 100% of the items identified through searching are still viewed by a human screener. This could combat concerns about false negatives assigned by an automated screener. A further potential benefit of such a system is that it 'could deliver quality assurance both by confirming concordant decisions and by naming studies associated with discordant decisions for further consideration' (Bekhuis [
60
], p. 9) (One possible weakness of this approach is that it necessarily assumes that any mistakes made by the human screener are essentially at random, and not because of some systematic misapplication of the inclusion criteria, which might be picked up and addressed if two reviewers were working in tandem.).
Reducing workload by increasing the rate (or speed) of screening was a little researched topic, exclusively limited to the visual data mining approach and largely championed by one research group. A major limitation of these evaluations—and potentially for the wider applicability of these approaches—is that the approach has only been tested on very small datasets. The largest dataset consisted of only 261 items to be screened [
13
]. It is unclear whether such an approach could be scaled up to be applied in other disciplines in which thousands of items might need to be screened, though the authors argue that upscaling is indeed possible. The efficient citation assignment approach evaluated by Wallace et al. [
49
] may also be promising for larger reviews where the expertise of the reviewers is known.
Improving workflow efficiency through screening prioritisation is likely to appeal to systematic reviewers as it allows for reviewers to screen 100% of the titles and abstract but with a range of benefits. Benefits discussed in the literature included: understanding the inclusion criteria sooner, getting up to speed on new developments in review updates, starting full-text document retrieval sooner and starting the data extraction and synthesis processes in parallel with screening the 'tail end' of the list of items (in which there are expected to be very few or zero relevant items).
The
third research question
related to the contextual problems of applying text mining to systematic review screening and how they have been addressed in the literature. We found various attempts to address the importance of high recall for systematic reviews (vote counting; specialist algorithms; and human input). Whilst all evaluations reported good recall, the studies used different adaptations; so it is impossible to conclude whether any approach is better than another—and in which context. However, human input is likely to have intuitive appeal to systematic reviewers, as it allows for a human sense-check of the terminology preferences determined by the machine.
One important distinction to make when evaluating the utility of machine learning in screening is whether one is creating a new review or updating and existing one. Given the existence of the preexisting data for review updates, it is often possible to know in advance the likely performance of using text mining, enabling reviewers to make an informed decision about its potential in that specific review. Such a situation does not pertain in new reviews, and the risk of hasty generalisation is a 'known unknown' here, as are the risks and benefits of adopting a semi-automated approach.
The lack of replication and testing outside the biomedical sphere makes it difficult to draw conclusions about the general effectiveness of these technologies. Certainly, where technical jargon is utilised, most approaches appear to offer efficiency savings; and in the few instances of their application outside the medical domain they again can be effective, though potentially slightly less so.
The
fourth research question
considered how the workload reduction issue has been evaluated. Here, it was impossible to synthesise study findings quantitatively, because each used different technologies in (usually) different reviews. On the whole, most suggested that a saving in workload of between 30% and 70% might be possible (with some a little higher or a little lower than this), though sometimes the saving in workload is accompanied by the loss of 5% of relevant studies (i.e. a 95% recall).
The
fifth research question
considered the challenges to implementation that emerged from reviewing the evidence base. Here, we found few deployed systems, which limits the ability of reviewers to try out these technologies, but also, given the limitations in the evidence base identified above, there is probably a need for specialist advice whenever they are used in a live review—and certainly if workload reduction is planned (i.e. if their use extends beyond prioritising screening). We also found a lack of replication studies, which makes it difficult to compare the efficacy of different approaches across review contexts, and few evaluations outside the biomedical domain. Challenges in using such technologies include questions about how they might scale to large reviews and how to model accurate classifiers when the decisions made by reviewers are likely to err on the side of caution, and hence be over-inclusive.
Strengths and limitations of this review
To the best of our knowledge, this is the first systematic review that has brought together evidence concerning the use of text mining for screening in systematic reviews. We have identified a varied, innovative and potentially extremely important evidence base—which one day may do much to improve review efficiency and so improve decision-making. We hope that this review will help the different areas of the field to 'speak' to one another and so facilitate the development of the field as a whole.
As there are no other systematic reviews of this area, we had a broad review question, which encompassed any approach. This has enabled us to identify the cross-cutting issues in the field but has limited the quantity of technical information that we have been able to present. For example, a narrower review focused solely on active learning might be able to delve into the specifics in more detail.
An inevitable limitation due to setting the scope of the review to evaluations of text mining approaches
within
systematic reviews is that relevant research in other areas is excluded. For example, if we had reviewed all potentially relevant research about text mining and active learning (an almost impossible task!), other technologies and approaches, beyond those so far evaluated in systematic reviews, might well have come to light. Whilst this limitation was impossible to avoid, it is nevertheless a significant limitation, because only a small subset of possible approaches to, for example, feature selection/enrichment and distance analytics, have been tested within the systematic review literature. The field of text mining contains many more possibilities—and some may be more effective and appropriate than those so far evaluated.
A limitation which applies to any systematic review is that we may not have managed to find
every
relevant study. This was highlighted to us during the peer review process when another relevant study came to light. This study was focused on a text mining approach and utilised data from systematic reviews as its test scenario [
71
]. There may be other papers like this one which we have inadvertently missed.
Further possibilities
Recommendations
Recommendations for research
● More replications using the same text mining methods on different datasets are required.

● Likewise, different methods using the same dataset are also needed in order genuinely to compare one with another.

● To facilitate the above, data on which evaluations are based should be made public as often as possible.

● The testing of the methods reviewed here in other disciplines is urgently required. For example, the field of Development Studies may be more complex and thus demand more of the text mining (promoting more innovation to overcome new hurdles).
Recommendations for reviewing practice
● Reviewers should engage with the computer science community to develop and evaluate methods and systems jointly.

● Using text mining to prioritise the order in which items are screened should be considered safe and ready for use in 'live' reviews.

● The use of text mining as a 'second screener' may be used cautiously in the knowledge that the assumption is that the human reviewer is not missing relevant studies systematically.

● The use of text mining to eliminate studies automatically should be considered promising, but not yet fully proven. In highly technical/clinical areas, it may be used with a high degree of confidence; but more developmental and evaluative work is needed in other disciplines.
Conclusion
Whilst there is a relatively abundant and active evidence base evaluating the use of text mining for reducing workload in screening for systematic reviews, it is a diverse and complex literature. The vast array of different issues explored makes it difficult to draw any conclusions about the most effective approach. There are, however, key messages regarding the complexity of applying text mining to the systematic review context and the challenges that implementing such technologies in this area will encounter. Future research will particularly need to address: the issue of replication of evaluations; the suitability of the technologies for use across a range of subject-matter areas; and the usability and acceptability of using these technologies amongst systematic review (non-computer scientist) audiences.
Endnotes
aA 'method', in the context of this review, is the application of a specific technology or a process within a systematic review. This is a somewhat broad definition which includes, for example, both the use of a classifier to classify citations as being relevant/irrelevant; and also the 'active learning' approach, which incorporates a classifier as part of its process. This broad definition reflects the practical purpose of this review—we are interested in approaches that can be applied in systematic reviews, and these may be individual tools, combinations of tools or processes for using them.
b
The practicalities of implementing text mining in live reviews are the subject of a current project by the EPPI-Centre and NaCTeM, which aims to address some of these issues. Project URL:
http://​www.​ioe.​ac.​uk/​research/​63969.​html
.
Acknowledgements
This work was supported by grants awarded by the UK Medical Research Council:
Identifying relevant studies for systematic reviews and health technology assessments using text mining
[Grant No. MR/J005037/1, also MR/L01078X/1:
Supporting Evidence-based Public Health Interventions using Text Mining
].
Open Access
This article is licensed under a Creative Commons Attribution 4.0 International License, which permits use, sharing, adaptation, distribution and reproduction in any medium or format, as long as you give appropriate credit to the original author(s) and the source, provide a link to the Creative Commons licence, and indicate if changes were made.
The images or other third party material in this article are included in the article's Creative Commons licence, unless indicated otherwise in a credit line to the material. If material is not included in the article's Creative Commons licence and your intended use is not permitted by statutory regulation or exceeds the permitted use, you will need to obtain permission directly from the copyright holder.
Competing interests
The authors declare that they have no competing interests.
Authors' contributions
JT and AOM conceived the study and wrote the protocol. AOM conducted the principal data extraction and took the lead on writing this paper. JT undertook 2
nd
data extraction and journal submission, assisted with writing the paper, and made amendments in the light of peer reviewers' comments. JM, MM and SA contributed domain expertise and wrote sections of the paper. The authors authored three of the studies included in the review [
31
,
45
,
57
]. All authors read and approved the final manuscript.