01.12.2017 | Case Report | Ausgabe 1/2017 Open Access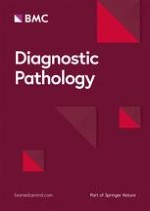 Uterine epithelioid leiomyosarcoma with c-kit expression and
YWHAE

gene rearrangement: a case report of a diagnostic pitfall of uterine sarcoma
Zeitschrift:
Autoren:

Terufumi Kubo, Shintaro Sugita, Ryuichi Wada, Noriaki Kikuchi, Masahiro Iwasaki, Yumika Ito, Taro Sugawara, Hiromi Fujita, Makoto Emori, Ryoichi Tanaka, Hiroshi Hirano, Tsuyoshi Saito, Tadashi Hasegawa
Abstract
Background
Uterine sarcoma is a rare tumor that is often difficult to classify based on morphological and immunohistochemical analysis alone. Limited access to molecular biological analysis in routine practice would hinder making a definitive diagnosis.
Case Presentation
In this report, we describe a case of a mesenchymal tumor arising from the uterine cervix in a 52-year-old woman. From microscopic morphology of the resected specimen, epithelioid leiomyosarcoma, high-grade endometrial stromal sarcoma, or uterine gastrointestinal stromal tumor (GIST) were considered as differential diagnoses. The immunophenotype of the tumor featured smooth muscle differentiation and hormone receptor expression. The cell membrane and cytoplasm were positive for c-kit, although no mutation was found in the
c-kit
or
PDGFRA
gene. Fluorescence
in situ
hybridization (FISH) analysis revealed a relatively low frequency of
YWHAE
rearrangement, whereas there were few
NUTM2A
and
NUTM2B
split signals.
Conclusions
In this case, the tumor was not typical of any three of the differential diagnoses mentioned above. However, insufficient frequency of
YWHAE
,
NUTM2A,
and
NUTM2B
gene rearrangement and absence of mutation in both the
c-kit
and
PDGFRA
genes suggested that this tumor should be categorized as epithelioid leiomyosarcoma. This is an instructive case showing a potential diagnostic pitfall of uterine sarcoma. Comprehensive approaches including molecular biological techniques are required for definitive diagnosis.