01.12.2015 | Research article | Ausgabe 1/2015 Open Access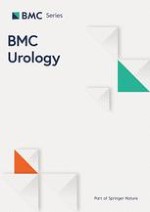 Utility of copeptin and standard inflammatory markers in the diagnostics of upper and lower urinary tract infections
Zeitschrift:
Autoren:

Anna Masajtis-Zagajewska, Ilona Kurnatowska, Malgorzata Wajdlich, Michal Nowicki
Wichtige Hinweise
Competing interests
The authors declare that they have no competing interests.
Authors' contributions
AMZ participated in the conception and design of entire study, performed the data acquisition, helped to draft the manuscript and performed the statistical analysis. MW performed the data acquisition. MN participated in the conception and design of entire study and performed the statistical analysis. All authors read and approved the final manuscript.
Abstract
Background
A new serum marker of inflammation copeptin (CPP) a stable C-terminal pro-vasopressin was assessed along with conventional markers such as C-reactive protein (CRP), procalcitonin (PCT) and IL-6 to discriminate between lower and upper bacterial urinary tract infections (UTI).
Methods
Study population comprised 45 patients including 13 with lower UTI (L-UTI) and 32 with upper UTI (U-UTI) and 24 healthy controls. Serum markers, blood cultures and urine cultures were assessed before commencing antibiotic treatment and repeated 24, 48 h and 7 days thereafter. Receiver operating curves (ROC) were plotted to assess a diagnostic utility of different inflammatory markers.
Results
Before antibiotic therapy all inflammatory markers including serum CPP (2821.1 ± 1072.4 pg/ml vs. 223.8 ± 109.3 pg/ml; p < 0.05) were higher in UTI than in controls. CPP was not different between L- and U-UTI (2253 ± 1323 pg/ml vs 3051 ± 1178 pg/ml; p = 0.70) despite significant differences in hsCRP (2.09 ± 1.7 mg/dl vs 127.3 ± 62.4 mg/dl; p < 0.001), PCT (0.05 ± 0 vs 5.02 ± 0.03 ng/ml p < 0.001) and IL-6 (22.5 ± 1.6 vs 84.8 ± 67 pg/ml p < 0.001). For U-UTI the areas under the ROC curves were 1.0 for both hsCRP and CPP, 0.94 for PCT and 0.7 for IL-6 and for L-UTI 0.571, 1, 0.505 and 0.73, respectively. After 7 days of treatment all markers decreased in parallel to clinical response.
Conclusion
Although elevated serum copeptin may become a marker of UTI it seems to be inferior compared to traditional serum inflammation markers for differentiation of bacterial infections involving upper and lower urinary tract.