01.12.2017 | Research | Ausgabe 1/2017 Open Access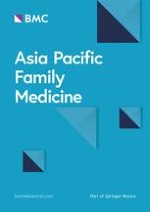 Utility of self-competency ratings during residency training in family medicine education-emerging countries: findings from Japan
Zeitschrift:
Autoren:

Michael D. Fetters, Satoko Motohara, Lauren Ivey, Keiichiro Narumoto, Kiyoshi Sano, Masahiko Terada, Tsukasa Tsuda, Machiko Inoue
Abstract
Background
Family medicine education-emerging countries face challenges in demonstrating a new program's ability to train residents in womb-to-tomb care and resident ability to provide such care competently. We illustrate the experience of a new Japanese family medicine program with resident self-competency assessments.
Methods
In this longitudinal cross-sectional study, residents completed self-competency assessment surveys online during 2011–2015. Each year of training, residents self-ranked their competence using a 100-point visual analog scale for 142 conditions: acute (30 conditions), chronic (28 conditions) women's health (eight conditions), and geriatrics/home (12 conditions) care; procedures (38 types); health promotion (21 conditions).
Results
Twenty residents (11 women, 9 men) participated. Scores improved annually by training year from baseline to graduation; the mean composite score advanced from 31 to 65%. All subcategories showed improvement. Scores for care involving acute conditions rose from 49 to 75% (26% increase); emergency procedures, 46–65% (19% increase); chronic care, 33–73% (40% increase); women's health, 16–59% (43% increase); procedural care, 26–56% (30% increase); geriatrics care-procedures, 8–65% (57% increase); health promotion, 21–63% (42% increase). Acute care, chronic care, and health promotion achieved the highest levels. Women's health care, screenings, and geriatrics experienced the greatest increase. Health promotion gains occurred most dramatically in the final residency year.
Conclusions
A resident self-competency assessment provides a simple and practical way to conduct an assessment of skills, to monitor skills over time, to use the data to inform residency program improvement, and to demonstrate the breadth of family medicine training to policymakers, and other stakeholders.