21.06.2017 | Epidemiology | Ausgabe 2/2017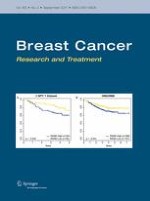 Utilization of hypofractionated whole-breast radiation therapy in patients receiving chemotherapy: a National Cancer Database analysis
Zeitschrift:
Autoren:

Tejan P. Diwanji, Jason K. Molitoris, Arpit M. Chhabra, James W. Snider, Soren M. Bentzen, Katherine H. Tkaczuk, Paula Y. Rosenblatt, Susan B. Kesmodel, Emily C. Bellavance, Randi J. Cohen, Sally B. Cheston, Elizabeth M. Nichols, Steven J. Feigenberg
Abstract
Purpose
Results from four major hypofractionated whole-breast radiotherapy (HF-WBRT) trials have demonstrated equivalence in select patients with early-stage breast cancer when compared with conventionally fractionated WBRT (CF-WBRT). Because relatively little data were available on patients receiving neoadjuvant or adjuvant chemotherapy, consensus guidelines published in 2011 did not endorse the use of HF-WBRT in this population. Our goal is to evaluate trends in utilization of HF-WBRT in patients receiving chemotherapy.
Methods and materials
We retrospectively analyzed data from 2004 to 2013 in the National Cancer DataBase on breast cancer patients treated with HF-WBRT who met the clinical criteria proposed by consensus guidelines (i.e., age >0 years, T1-2N0, and breast-conserving surgery), regardless of receipt of chemotherapy. We employed logistic regression to delineate and compare clinical and demographic factors associated with utilization of HF-WBRT and CF-WBRT.
Results
A total of 56,836 women were treated with chemotherapy and WBRT (without regional nodal irradiation) from 2004 to 2013; 9.0% (
n
= 5093) were treated with HF-WBRT. Utilization of HF-WBRT increased from 4.6% in 2004 to 18.2% in 2013 (odds ratio [OR] 1.21/year;
P
< 0.001). Among patients receiving chemotherapy, factors most dramatically associated with increased odds of receiving HF-WBRT on multivariate analysis were academic facilities (OR 2.07;
P
< 0.001), age >80 (OR 2.58;
P
< 0.001), west region (OR 1.91;
P
< 0.001), and distance >50 miles from cancer reporting facility (OR 1.43;
P
< 0.001). Factors associated with decreased odds of receiving HF-WBRT included white race, income <$48,000, lack of private insurance, T2 versus T1, and higher grade (all
P
< 0.02).
Conclusions
Despite the absence of consensus guideline recommendations, the use of HF-WBRT in patients receiving chemotherapy has increased fourfold (absolute = 13.6%) over the last decade. Increased utilization of HF-WBRT should result in institutional reports verifying its safety and efficacy.