01.12.2017 | Research | Ausgabe 1/2017 Open Access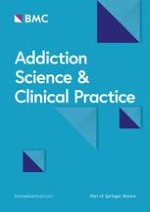 VA residential substance use disorder treatment program providers' perceptions of facilitators and barriers to performance on pre-admission processes
Zeitschrift:
Autoren:

Laura S. Ellerbe, Luisa Manfredi, Shalini Gupta, Tyler E. Phelps, Thomas R. Bowe, Anna D. Rubinsky, Jennifer L. Burden, Alex H. S. Harris
Abstract
Background
In the U.S. Department of Veterans Affairs (VA), residential treatment programs are an important part of the continuum of care for patients with a substance use disorder (SUD). However, a limited number of program-specific measures to identify quality gaps in SUD residential programs exist. This study aimed to: (1) Develop metrics for two pre-admission processes:
Wait Time
and
Engagement While Waiting
, and (2) Interview program management and staff about program structures and processes that may contribute to performance on these metrics. The first aim sought to supplement the VA's existing facility-level performance metrics with SUD program-level metrics in order to identify high-value targets for quality improvement. The second aim recognized that not all key processes are reflected in the administrative data, and even when they are, new insight may be gained from viewing these data in the context of day-to-day clinical practice.
Methods
VA administrative data from fiscal year 2012 were used to calculate pre-admission metrics for 97 programs (63 SUD Residential Rehabilitation Treatment Programs (SUD RRTPs); 34 Mental Health Residential Rehabilitation Treatment Programs (MH RRTPs) with a SUD track). Interviews were then conducted with management and front-line staff to learn what factors may have contributed to high or low performance, relative to the national average for their program type. We hypothesized that speaking directly to residential program staff may reveal innovative practices, areas for improvement, and factors that may explain system-wide variability in performance.
Results
Average wait time for admission was 16 days (SUD RRTPs: 17 days; MH RRTPs with a SUD track: 11 days), with 60% of Veterans waiting longer than 7 days. For these Veterans, engagement while waiting occurred in an average of 54% of the waiting weeks (range 3–100% across programs). Fifty-nine interviews representing 44 programs revealed factors perceived to potentially impact performance in these domains. Efficient screening processes, effective patient flow, and available beds were perceived to facilitate shorter wait times, while lack of beds, poor staffing levels, and lengths of stay of existing patients were thought to lengthen wait times. Accessible outpatient services, strong patient outreach, and strong encouragement of pre-admission outpatient treatment emerged as facilitators of engagement while waiting; poor staffing levels, socioeconomic barriers, and low patient motivation were viewed as barriers.
Conclusions
Metrics for pre-admission processes can be helpful for monitoring residential SUD treatment programs. Interviewing program management and staff about drivers of performance metrics can play a complementary role by identifying innovative and other strong practices, as well as high-value targets for quality improvement. Key facilitators of high-performing facilities may offer programs with lower performance useful strategies to improve specific pre-admission processes.