01.12.2017 | Research | Ausgabe 1/2017 Open Access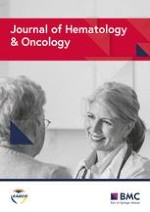 Vaccination with poly(IC:LC) and peptide-pulsed autologous dendritic cells in patients with pancreatic cancer
Zeitschrift:
Autoren:

Shikhar Mehrotra, Carolyn D. Britten, Steve Chin, Elizabeth Garrett-Mayer, Colleen A. Cloud, Mingli Li, Gina Scurti, Mohamed L. Salem, Michelle H. Nelson, Melanie B. Thomas, Chrystal M. Paulos, Andres M. Salazar, Michael I. Nishimura, Mark P. Rubinstein, Zihai Li, David J. Cole
Wichtige Hinweise
Electronic supplementary material
The online version of this article (doi:
10.​1186/​s13045-017-0459-2
) contains supplementary material, which is available to authorized users.
Background
Methods
Patient selection
Eligible patients were ≥18 years of age with histologically or cytologically confirmed diagnosis of adenocarcinoma of the pancreas that was metastatic, locally advanced, or recurrent. Patients were required to have HLA-A2 positivity by serological testing Eastern Cooperative Oncology Group performance status ≤2, expected survival >3 months, measureable disease per RECIST 1.1, and adequate organ function [
28
,
29
]. Patients with clinically significant ascites, brain metastases, or HIV were excluded from this trial.
Study design
This pilot study, with a planned sample size of 12 patients, was designed to evaluate the feasibility and the safety of systemic administration of polyinosinic-polycytidylic acid stabilized with polylysine and carboxymethylcellulose (poly(IC:LC), or Hiltonol; Oncovir, Washington, D.C.) concurrent with active vaccination of autologous peptide pulsed DCs in patients with advanced adenocarcinoma of the pancreas. The DC vaccine consisted of a pool of three aliquots of DCs pulsed with hTERT (YLFFYRKSV) [
25
–
27
], Cap1-6D (YLSGADLNL) [
30
], or survivin (LTLGEFLKL) [
31
,
32
] peptides that were obtained from PolyPeptide Group (San Diego, CA). The CEF control peptide pool was obtained from AnaSpec, (cat# 61036, Fremont, CA). The CEF control peptides are 8–12 amino acids in length, with sequences derived from the human
C
ytomegalovirus,
E
pstein-Barr Virus and In
f
luenza Virus. Eligible patients underwent leukapheresis on day -35 to generate immature DCs. At day -28 DCs were cryopreserved and subsequently tested according to lot release criteria. Patients were given a combination vaccine comprised of antigen-pulsed DCs (1 × 10
7
DC intradermally delivered on days 0, 14, 28, and 42) and TLR3 agonist Poly(IC:LC) (30 μg/kg intramuscularly administered on days 0, 3, 14, 17, 21, 28, 31, 37, 42, and 45), as outlined in Fig.
1a
. All patients were premedicated with acetaminophen and diphenhydramine prior to injection. Comprehensive safety evaluations, including physical examination, vital signs, and clinical laboratory tests (hematology, blood chemistry, urine analysis) were performed at baseline, prior to each vaccination, at predetermined time points between vaccinations, and 2 weeks after the last vaccination. Adverse events were assessed for severity and relationship to treatment, and were graded according to NCI-CTCAE version 4.0. Baseline tumor assessment was performed within 28 days prior to day 0, and restaging assessments were performed within 7 days of day 56. Objective tumor response was evaluated according to RECIST criteria version 1.1 [
33
,
34
]. Blood samples were drawn for immune monitoring before each vaccination and two weeks after the last vaccination (days 0, 14, 28, 42, and 56). Overall survival is defined as the time from leukapheresis until death. Patients were categorized by their response (complete/partial response, stable disease, or progression) at day 56. The study was approved by the Institutional Review Board at MUSC, and was performed in accordance with the Declaration of Helsinki, Good Clinical Practice (GCP) guidelines and applicable local regulatory requirements and laws. All patients provided their written informed consent.
×
DC expansion and differentiation
Peripheral blood monocyte-derived DCs were generated from peripheral blood monocyte (PBMCs)-by performing standard Ficoll-density centrifugation (GE Healthcare, Uppsala, Sweden) to isolate PBMCs from patient leukapheresed materials. PBMCs were plated in serum free AIM-V CTS media (Life Technologies, Grand Island, NY) at 2–4 × 10 8 cells per T225 flask and allowed to adhere for 2 h in 5% CO 2. Medium was replaced with AIM-V containing 25 ng/mL rhIL-4 (R&D Systems, Minneapolis, MN) and 800 IU/mL rhGM-CSF (Sanofi, Bridgewater, NJ) and cultured for 5–7 days at 37 °C, 5% CO 2. DCs were cryopreserved in 10% DMSO/5% human albumin at 20 × 10 6/mL. Prior to DC administration, a small fraction of the final DC product was used for lot release tests, which included determining DC viability, sterility, mycoplasma, endotoxin, and DC phenotypic characterization. To meet the lot release criteria the samples had to be sterile and exhibit greater than 70% viability as determined using propidium iodide (Fluka, Switzerland). The sterility testing included determination of fungal sterility using BacT/Alert Anaerobic and Aerobic bottles (Biomerieux, Durham, NC) and mycoplasma detection using commercial kit (Lonza, Switzerland). Endotoxin threshold was set at less than 5 EU/kg patient weight and determined using Endosafe®-PTS™ (Charles River Laboratories, Charleston, SC). The DC phenotypic determination for lot-release included flow-cytometry based determination of surface marker expression of CD11c, HLA-DR and CD86 (>50%), and expression for monocyte marker CD14 (<50%). All DC preparations passed lot-release criteria and were administered to patients.
Vaccination
On the day of vaccination, cryopreserved DCs were thawed, washed in AIM-V media, counted, and resuspended to 1 × 10
6
cells/mL and split into three equal batches. Each batch was pulsed separately with one of the following HLA-A2-binding peptides for 1 h: 20 μg/mL of the CEA altered peptide, Cap1-6D [
30
], 20 μg/mL of the telomerase peptide: hTERT [
25
–
27
], or 30 μg/mL of the survivin peptide [
31
,
32
]. At the end of the incubation period, pulsed DCs were pooled, washed and re-suspended to 40 × 10
6
cells per mL in saline. 1 × 10
7
antigen-pulsed DCs and poly(IC:LC) were administered to the patient as previously described. DTH reactions were performed twice: 1) prior to vaccination and 2) between vaccination #3 and #4.
Flow cytometry
PBMCs harvested at each time-point were assayed by flow cytometric analysis to determine the percentage of tetramer positive T cells. Briefly, PBMCs were first stained with fluorescent-labeled Live/Dead antibody (BioLegend, San Diego, CA) followed by blocking with 10 μg/mL human IgG [
35
]. PBMCs were stained with fluorescent-labeled peptide tetrameric-MHC complexes (NIH Tetramer Core Facility-Emory University) specific for the peptide epitopes used for vaccination. Additional phenotypic markers were incorporated into the staining methodology including the following: CD8 (RPA-T8), CD4 (L200), FOXP3 (259D/C7), GATA-3 (L50-823), RORγt (Q21-559), T-bet (04-46), CD44 (G44-26), CD62L (DREG-56), CD279 (EH12.1), CD80 (L307.4), CD86 (2331), CD14 (M5E2) and HLA-DR (G46-6) (BD Biosciences, San Diego, CA), and CD3 (OKT-3) (BioLegend, San Diego, CA). After staining the PBMC using standard flow cytometric methodology, cells were fixed and analyzed with a BD LSR Fortessa using BD FACSDiva 6 software (BD Biosciences, San Diego, CA). Analysis was performed using FlowJo software (TreeStar Inc, Ashland, OR).
IFNγ ELISA/ELISPOT
The ability of PBMCs from health donors or patients to secrete IFN-γ upon recognition of specific antigen was measured via ELISA or ELISPOT. Specifically, PBMCs that were frozen at different time points post vaccination were thawed and equal number of viable cells were co-cultured overnight with T2 cells pulsed with one of the following peptides: Cap1-6D [
30
], hTERT [
25
–
27
], or survivin peptide [
31
,
32
]. Control conditions were T2 cells without any peptide. Supernatant was harvested after overnight co-culturing and assayed for IFN-γ by ELISA (R&D Systems, Minneapolis, MN). Cytokine production was considered positive when IFN-γ levels are more than twofold higher after co-incubation with peptide-pulsed T2 cells compared with co-incubation with T2 cells pulsed with irrelevant antigen. Co-culture for ELISPOT (eBioscience, San Diego, CA) was conducted similarly as per manufacturer's protocol and the antigen reactive T cells were quantified using the spots with the ELISPOT plate reader.
Statistical considerations
This trial was designed as a pilot study for assessing feasibility and thus no power calculation was performed to justify the planned sample size (
n
 = 12). Overall survival is described using Kaplan-Meier curves. Immune monitoring measures were compared using paired t-tests and Wilcoxon signed rank test were used to evaluate immune monitoring parameters. Alpha level was set at 0.05 for all hypothesis tests. For determining the antigen specific T cell response, repeated measures (% positive cells every 14 days between day 0 and day 56) were modeled using linear regression, estimated using generalized estimating equation (GEE). Time was treated as categorical and comparisons were made relative to day 0. An exchangeable correlation was assumed.
Results
Discussion
Overall, our results herein may shed light for prospective patient selection in future immunotherapy studies. On the basis of the results of this phase I trial, we will continue developing more advanced clinical trials with this particular approach. For example, we are now conducting phase I clinical trials with our DC vaccination in HLA-A2+ patients as well as HLA-A2- patients, as the poly(IC:LC) adjuvants might enhance a plethora of antitumor specific T cells. The choice of DC administration route may impact the efficacy of vaccines. Herein, we delivered our combination therapy via an intradermal route. In our study, intradermal administration was feasible and well tolerated, warranting further development with this approach. In a related trial, we delivered this combination vaccine therapy intratumorally to the patient, in an attempt to further activate innate immune cells as well as bolster antigen-specific T cells in the patients. As there exists a fibronectin-rich shield around pancreatic tumors, it is conceivable T cells do not effectively infiltrate this malignancy. Our objective is to further define which subgroups of patients may respond to this intratumoral vaccination strategy. Our approach may contribute to further optimization of next generation DC-based vaccines for patients with advanced malignancies.
Conclusions
Our study concludes that tumor peptide epitope pulsed autologus DC vaccination in combination with TLR ligands could be a promising approach for controlling tumor growth in pancreatic cancer patients.
Acknowledgements
We sincerely acknowledge help from the Clinical Trials Office, Biostatistics Shared Resource, and by the Cell Evaluation and Therapy Shared Resource, at Hollings Cancer Center, Medical University of South Carolina (P30 CA138313); by the South Carolina Clinical and Translational Research Institute, Medical University of South Carolina (NIH/NCATS UL1TR000062); and by the Gastrointestinal Malignancies SmartState® Center of Economic Excellence (Britten). We also thank Oncovir for kindly providing Hiltonol® for this study.
Funding
This work was supported by pilot funding from Department of Surgery and Hollings Cancer Center to promote cellular therapy based clinical trials at MUSC.
Availability of data and materials
All data generated or analyzed during this study are included in this published article. Any additional information/analysis for this study is available and could be requested from the corresponding authors.
Authors' contributions
DJC, MLS, MPR, SC, and SM contributed to the conception and design. SM, SC, CAC, ML, GS, and MIN contributed to the development of the methodology. SC and CAC contributed to the acquisition of data. SM, CAC, MHN, CMP, and EGM contributed to the analysis and interpretation of data. SM, CDB, EGM, CMP, MPR, MLS, ZL, and DJC contributed to the writing, review, and/or revision of the manuscript. DJC, SC, MBT, AMS, CDB, and SM contributed to the study supervision. All authors read and approved the final manuscript.
Competing interests
The authors declare that they have no competing interests.
Consent for publication
The consent to publish the data was obtained from all individuals participating in this trial (MUSC CTO # 101498).
Ethics approval and consent to participate
All approvals were obtained from MUSC Institutional Review Board for Human Research for this trial, with FWA00001888 (Federal Wide Assurance Number).
Publisher's Note
Springer Nature remains neutral with regard to jurisdictional claims in published maps and institutional affiliations.
Open Access
This article is distributed under the terms of the Creative Commons Attribution 4.0 International License (
http://​creativecommons.​org/​licenses/​by/​4.​0/​
), which permits unrestricted use, distribution, and reproduction in any medium, provided you give appropriate credit to the original author(s) and the source, provide a link to the Creative Commons license, and indicate if changes were made. The Creative Commons Public Domain Dedication waiver (
http://​creativecommons.​org/​publicdomain/​zero/​1.​0/​
) applies to the data made available in this article, unless otherwise stated.