09.11.2017 | Review | Ausgabe 6/2017 Open Access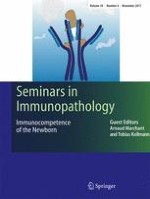 Vaccine responses in newborns
Zeitschrift:
Autoren:

Anja Saso, Beate Kampmann
Wichtige Hinweise
This article is a contribution to the special issue on Immunocompetence of the Newborn - Guest Editors: Arnaud Marchant and Tobias Kollmann
Abstract
Immunisation of the newborn represents a key global strategy in overcoming morbidity and mortality due to infection in early life. Potential limitations, however, include poor immunogenicity, safety concerns and the development of tolerogenicity or hypo-responsiveness to either the same antigen and/or concomitant antigens administered at birth or in the subsequent months. Furthermore, the neonatal immunological milieu is polarised towards Th2-type immunity with dampening of Th1-type responses and impaired humoral immunity, resulting in qualitatively and quantitatively poorer antibody responses compared to older infants. Innate immunity also shows functional deficiency in antigen-presenting cells: the expression and signalling of Toll-like receptors undergo maturational changes associated with distinct functional responses. Nevertheless, the effectiveness of BCG, hepatitis B and oral polio vaccines, the only immunisations currently in use in the neonatal period, is proof of concept that vaccines can be successfully administered to the newborn via different routes of delivery to induce a range of protective mechanisms for three different diseases. In this review paper, we discuss the rationale for and challenges to neonatal immunisation, summarising progress made in the field, including lessons learnt from newborn vaccines in the pipeline. Furthermore, we explore important maternal, infant and environmental co-factors that may impede the success of current and future neonatal immunisation strategies. A variety of approaches have been proposed to overcome the inherent regulatory constraints of the newborn innate and adaptive immune system, including alternative routes of delivery, novel vaccine configurations, improved innate receptor agonists and optimised antigen-adjuvant combinations. Crucially, a dual strategy may be employed whereby immunisation at birth is used to prime the immune system in order to improve immunogenicity to subsequent homologous or heterologous boosters in later infancy. Similarly, potent non-specific immunomodulatory effects may be elicited when challenged with unrelated antigens, with the potential to reduce the overall risk of infection and allergic disease in early life.