01.12.2018 | Review | Ausgabe 1/2018 Open Access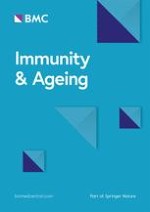 Vaccines for the elderly: current use and future challenges
Zeitschrift:
Autor:

Birgit Weinberger
Abstract
Age-related changes of the immune system contribute to increased incidence and severity of infections in the elderly. Vaccination is the most effective measure to prevent infections and vaccination recommendations in most countries include specific guidelines for the elderly. Vaccination against influenza and
Streptococcus pneumoniae
is usually recommended for persons with underlying diseases and for the elderly with heterogeneous age limits between ≥ 50 years and ≥ 65 years. Some countries also recommend vaccination against herpes zoster. Several vaccines are recommended for all adults, such as regular booster shots against tetanus/diphtheria/pertussis/polio, or for specific groups, e.g. vaccination against tick-borne encephalitis in endemic areas or travel vaccines. These are also relevant for the elderly. Most currently used vaccines are less immunogenic and effective in the elderly compared to younger adults. Potential strategies to improve their immunogenicity include higher antigen dose, alternative routes of administration, and the use of adjuvants, which were all implemented for influenza vaccines, and induce moderately higher antibody concentrations. Research on universal vaccines against influenza and
S. pneumoniae
is ongoing in order to overcome the limitations of the current strain-specific vaccines. Respiratory syncytial virus causes significant morbidity in the elderly. Novel vaccines against this and other pathogens, for instance bacterial nosocomial infections, have tremendous potential impact on health in old age and are intensively studied by many academic and commercial organizations. In addition to novel vaccine developments, it is crucial to increase awareness for the importance of vaccination beyond the pediatric setting, as vaccination coverage is still far from optimal for the older population.