01.08.2011 | Research | Ausgabe 4/2011 Open Access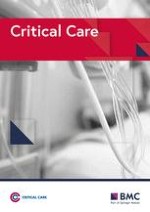 Validation and comparison of clinical prediction rules for invasive candidiasis in intensive care unit patients: a matched case-control study
Zeitschrift:
Autoren:

Elizabeth D Hermsen, Michelle K Zapapas, Melissa Maiefski, Mark E Rupp, Alison G Freifeld, Andre C Kalil
Wichtige Hinweise
Competing interests
EDH is currently an employee of Cubist Pharmaceuticals; is a shareholder in Cubist Pharmaceuticals; has been a consultant for Ortho-McNeil Pharmaceuticals, Cubist Pharmaceuticals and Forest Laboratories; and has received research funding from Pfizer and TheraDoc. MER has received research funding from Cubist Pharmaceuticals, Sanofi-Pasteur, Cardinal Health Foundation, 3 M and Molynlcke. AGF has received research funding from Merck and Pfizer. MKZ, MM and ACK have no conflicts of interest to declare.
Authors' contributions
EDH contributed to the study concept and design, the execution of the study and manuscript preparation. MKZ and MM contributed to data acquisition and manuscript preparation. MER and AGF contributed to the study design and manuscript preparation. ACK contributed to the study design, statistical analysis and manuscript preparation. All authors read and approved the final manuscript.
Abstract
Introduction
Due to the increasing prevalence and severity of invasive candidiasis, investigators have developed clinical prediction rules to identify patients who may benefit from antifungal prophylaxis or early empiric therapy. The aims of this study were to validate and compare the Paphitou and Ostrosky-Zeichner clinical prediction rules in ICU patients in a 689-bed academic medical center.
Methods
We conducted a retrospective matched case-control study from May 2003 to June 2008 to evaluate the sensitivity, specificity, positive predictive value (PPV) and negative predictive value (NPV) of each rule. Cases included adults with ICU stays of at least four days and invasive candidiasis matched to three controls by age, gender and ICU admission date. The clinical prediction rules were applied to cases and controls via retrospective chart review to evaluate the success of the rules in predicting invasive candidiasis. Paphitou's rule included diabetes, total parenteral nutrition (TPN) and dialysis with or without antibiotics. Ostrosky-Zeichner's rule included antibiotics or central venous catheter plus at least two of the following: surgery, immunosuppression, TPN, dialysis, corticosteroids and pancreatitis. Conditional logistic regression was performed to evaluate the rules. Discriminative power was evaluated by area under the receiver operating characteristic curve (AUC ROC).
Results
A total of 352 patients were included (88 cases and 264 controls). The incidence of invasive candidiasis among adults with an ICU stay of at least four days was 2.3%. The prediction rules performed similarly, exhibiting low PPVs (0.041 to 0.054), high NPVs (0.983 to 0.990) and AUC ROCs (0.649 to 0.705). A new prediction rule (Nebraska Medical Center rule) was developed with PPVs, NPVs and AUC ROCs of 0.047, 0.994 and 0.770, respectively.
Conclusions
Based on low PPVs and high NPVs, the rules are most useful for identifying patients who are not likely to develop invasive candidiasis, potentially preventing unnecessary antifungal use, optimizing patient ICU care and facilitating the design of forthcoming antifungal clinical trials.