08.05.2017 | Original Article | Ausgabe 6/2018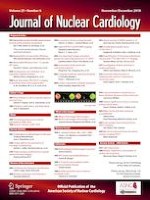 Validation of a clinical pathway to assess asymptomatic renal transplant candidates using myocardial perfusion imaging
Zeitschrift:
Autoren:

MD, MSc, FASNC Rami Doukky, MD, MSc Ibtihaj Fughhi, MD, MSc Tania Campagnoli, MD Marwan Wassouf, BS, MS Michael Kharouta, MD Aviral Vij, MD Chiedozie Anokwute, MD Andrew Appis, MD Amjad Ali
Wichtige Hinweise
Electronic supplementary material
The online version of this article (doi:
10.​1007/​s12350-017-0901-4
) contains supplementary material, which is available to authorized users.
The authors of this article have provided a PowerPoint file, available for download at SpringerLink, which summarises the contents of the paper and is free for re-use at meetings and presentations. Search for the article DOI on SpringerLink.com.
An audio interview was held April 13, 2017, between the Associate Editor, Fadi G. Hage, and Rami Doukky, co-author of this article. An audio file of the interview is available as an .mp3 download at the article webpage on SpringerLink.com, and can be found by searching for the article title or DOI.
Funding
The study was funded by an investigator-initiated grant from Astellas Pharma Global Development (Northbrook, IL). The grant fiduciary was Rush University Medical Center; the principal investigator is Rami Doukky. The funding source had no input into the study design, execution, data analysis, data interpretation, or manuscript preparation and approval.
Abstracts
Background
An AHA/ACCF scientific statement proposed 8 risk factors to assess the need for noninvasive coronary artery disease (CAD) surveillance in asymptomatic patients undergoing evaluation for kidney transplantation. The clinical application of these risk factors and the role of noninvasive testing in this context have not been defined.
Methods and Results
We retrospectively followed a cohort of 581 consecutive kidney transplant recipients of whom 401 had pre-transplant radionuclide myocardial perfusion imaging (MPI) and 90 had pre-transplant coronary angiography. The sum of pre-transplant AHA/ACCF risk factors (age >60 years, hypertension, diabetes, cardiovascular disease, dyslipidemia, smoking, dialysis >1 year, left ventricular hypertrophy) was calculated. MPI scans were analyzed by a "blinded" reader. Patients were followed for a mean of 3.7 ± 2.3 years post-transplant for major adverse cardiac events (MACE), defined as cardiac death or non-fatal myocardial infarction. The sum of risk factors was associated with modest discriminatory capacity for obstructive angiographic CAD (area under the curve [AUC], 0.70;
P
= 0.004), 30-day post-operative MACE (AUC, 0.60;
P
= 0.036), and long-term MACE (AUC, 0.63;
P
< 0.001). A threshold of ≥3 risk factors was optimal for identifying patients at risk. MPI provided incremental predictive value for obstructive CAD (
P
= 0.02) and long-term MACE (
P
= 0.04) but not post-operative MACE (
P
= 0.56). MPI was best predictive of long-term MACE in intermediate risk (3-4 risk factors) patients.
Conclusions
Asymptomatic kidney transplant candidates with ≥3 AHA/ACCF risk factors are at increased cardiac risk, and should be considered for noninvasive CAD surveillance. Intermediate risk patients (3-4 factors) benefit the most from pre-transplant MPI to define long-term MACE risk.