20.04.2016 | Original Paper | Ausgabe 11/2016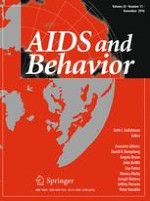 Validation of a New Three-Item Self-Report Measure for Medication Adherence
Zeitschrift:
Autoren:

Ira B. Wilson, Yoojin Lee, Joanne Michaud, Floyd J. Fowler Jr., William H. Rogers
Wichtige Hinweise
This work was presented in abstract form at the Pittsburgh Conference on the Science of Medication Adherence, Pittsburgh, PA. June 2, 2015.
Abstract
Few self-report measures of medication adherence have been rigorously developed and validated against electronic drug monitoring (EDM). Assess the validity of the 3-item self-report scale by comparing it with a contemporaneous EDM measure. We conducted an observational study in which adherence assessments were done monthly for up to 4 months for 81 patients with HIV who were taking antiretroviral medications. We report results for both HIV antiretroviral medications, and also for other, non-HIV-related medications. Raw and calibrated self-report adherence measures, electronic drug monitoring adherence measures, and sociodemographic variables. The mean age of patients was 46 years, 37 % were female, 49 % had some education beyond high school, 22 % were Black, and 22 % were Hispanic. Cronbach's alphas for the 3-item scale for HIV and non-HIV medications were 0.83 and 0.87, respectively. The mean differences (raw/uncalibrated self-report scale minus EDM) for HIV and non-HIV medications were 7.5 and 5.2 points on a 100-point scale (p < 0.05 for both). Pearson correlation coefficients between the calibrated 3-item scale and the EDM for HIV and non-HIV medications were 0.47 and 0.59, respectively. The c-statistics for the ROC curves for the calibrated scale, using cut-offs of 0.8 and 0.9 for the EDM gold standard measure to define non-adherence, were between 0.74 and 0.76 for HIV and non-HIV medications. This 3-item adherence self-report scale showed good psychometric characteristics and good construct validity when compared with an EDM standard, for both HIV and non-HIV medications. In clinical care it can be a useful first-stage screener for non-adherence. In clinical research and quality improvement settings it can be a useful tool when more complex and expensive methods such as EDM or pharmacy claims are impractical or unavailable.