01.12.2014 | Ausgabe 10/2014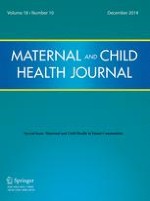 Validation of Self-reported Maternal and Infant Health Indicators in the Pregnancy Risk Assessment Monitoring System
Zeitschrift:
Autoren:

Patricia Dietz, Jennifer Bombard, Candace Mulready-Ward, John Gauthier, Judith Sackoff, Peggy Brozicevic, Melissa Gambatese, Michael Nyland-Funke, Lucinda England, Leslie Harrison, Allan Taylor
Wichtige Hinweise
Disclaimer
The findings and conclusions in this article are those of the authors and do not necessarily represent the official position of the Centers for Disease Control and Prevention, the New York City Department of Health and Mental Hygiene, or the Vermont Department of Health.
Abstract
To assess the validity of self-reported maternal and infant health indicators reported by mothers an average of 4 months after delivery. Three validity measures—sensitivity, specificity and positive predictive value (PPV)—were calculated for pregnancy history, pregnancy complications, health care utilization, and infant health indicators self-reported on the Pregnancy Risk Assessment Monitoring System (PRAMS) questionnaire by a representative sample of mothers delivering live births in New York City (NYC) (n = 603) and Vermont (n = 664) in 2009. Data abstracted from hospital records served as gold standards. All data were weighted to be representative of women delivering live births in NYC or Vermont during the study period. Most PRAMS indicators had >90 % specificity. Indicators with >90 % sensitivity and PPV for both sites included prior live birth, any diabetes, and Medicaid insurance at delivery, and for Vermont only, infant admission to the NICU and breastfeeding in the hospital. Indicators with poor sensitivity and PPV (<70 %) for both sites (i.e., NYC and Vermont) included placenta previa and/or placental abruption, urinary tract infection or kidney infection, and for NYC only, preterm labor, prior low-birth-weight birth, and prior preterm birth. For Vermont only, receipt of an HIV test during pregnancy had poor sensitivity and PPV. Mothers accurately reported information on prior live births and Medicaid insurance at delivery; however, mothers' recall of certain pregnancy complications and pregnancy history was poor. These findings could be used to prioritize data collection of indicators with high validity.