01.12.2017 | Research article | Ausgabe 1/2017 Open Access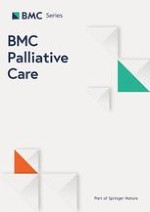 Validation of the German revised version of the program in palliative care education and practice questionnaire (PCEP-GR)
Zeitschrift:
Autoren:

Katharina Fetz, Ursula Wenzel-Meyburg, Christian Schulz-Quach
Abstract
Background
The evaluation of the effectiveness of undergraduate palliative care education (UPCE) programs is an essential foundation to providing high-quality UPCE programs. Therefore, the implementation of valid evaluation tools is indispensable. Until today, there has been no general consensus regarding concrete outcome parameters and their accurate measurement. The
Program in Palliative Care Education and Practice Questionnaire
(German Revised Version; PCEP-GR) is a promising assessment tool for UPCE. The aim of the current study was to evaluate the psychometric properties of PCEP-GR and to demonstrate its feasibility for the evaluation of UPCE programs.
Methods
The practical feasibility of the PCEP-GR and its acceptance in medical students were investigated in a pilot study with 24 undergraduate medical students at Heinrich Heine University Dusseldorf, Germany. Subsequently, the PCEP-GR was surveyed in a representative sample (
N
 = 680) of medical students in order to investigate its psychometric properties. Factorial validity was investigated by means of principal component analysis (PCA). Reliability was examined by means of split-half-reliability analysis and analysis of internal consistency. After taking into consideration the PCA and distribution analysis results, an evaluation instruction for the PCEP-GR was developed.
Results
The PCEP-GR proved to be feasible and well-accepted in medical students. PCA revealed a four-factorial solution indicating four PCEP-GR subscales:
preparation to provide palliative care,
attitudes towards palliative care,
self-estimation of competence in communication with dying patients and their relatives
and
self-estimation of knowledge and skills in palliative care.
The PCEP-GR showed good split-half-reliability and acceptable to good internal consistency of subscales.
Attitudes towards palliative care
slightly missed the criterion of acceptable internal consistency. The evaluation instruction suggests a global PCEP-GR index and four subscales.
Conclusions
The PCEP-GR has proven to be a feasible, economic, valid and reliable tool for the assessment of UPCE that comprises self-efficacy expectation and relevant attitudes towards palliative care.