01.11.2015 | Clinical Article - Vascular | Ausgabe 11/2015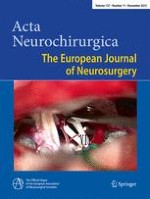 Validation of the modified Graeb score in aneurysmal subarachnoid hemorrhage
Zeitschrift:
Autoren:

Patrick Czorlich, Klaus C. Mende, Eik Vettorazzi, Jan Regelsberger, Manfred Westphal, Nils O. Schmidt
Wichtige Hinweise
Presentation at a conference
None.
Comment
Authors Czorlich et al. presented a study on comparison of two scores of intraventricular blood extension after SAH. The Graeb and modified Graeb scores (mGS) were compared, showing no major difference in prediction of mortality, severe morbidity, and shunt dependence after aneurysmal SAH. The study is based on retrospective observation of 257 patients. The methodology is clear and the results are sound. As the authors stated in their paper, external validation of recently proposed mGS is necessary due to the fact that this score is already used in clinical trials enrolling SAH patients. Studied mGS gives very detailed information about blood distribution after SAH and therefore probably has its place in academic studies. On the other hand, computation of mGS is a difficult and time-consuming procedure, which hardly finds its place in routine clinical practice, especially when its prognostic value is similar to the Graeb score, which was examined in the author's previous paper published in Acta Neurochirurgica. Furthermore, generally accepted is the Fisher scoring system, which is perfectly suitable for routine clinical practice.
Vladimir Benes
Prague, Czech Republic
Czorlich et al. have written a report on two evaluation scores for intraventricular hemorrhage in SAH patients. In their analysis, the researchers found no statistically significant differences between the original and modified Graeb scores. The compared scores have currently little clinical significance, but research literature needs tools for comparing the extent of intraventricular hemorrhage in SAH and ICH patients. However, some attempts at developing new tools lead to more laborious methods with results equaling with the established ones.
The researchers have gathered a retrospective single-institution cohort of 150 patients with intraventricular hemorrhage during the last 5 years. It is advisable, but often quite difficult, to evaluate clinical scores in a prospective setting. Aside of this fundamental shortcoming, the paper is well constructed and the results are credible. The scores seem to perform equally well or badly in prognosticating mortality, development of chronic hydrocephalus, or bad clinical outcome.
The original Graeb score is easier and more efficient in clinical and research-related use. Adding complexity in prognostic models seldom increases their usability, and cumbersome tools may reduce the amount of recruited patients in prognostic research projects.
Mika Niemla
Helsinki, Finland
Abstract
Background
Intraventricular hemorrhage (IVH) in patients suffering from aneurysmal subarachnoid hemorrhage (aSAH) is a known negative predictor. Scoring systems like Fisher, Le Roux, and original Graeb score (oGS) are established to quantify the volume of IVH. The aim of this study was to evaluate the validity of the recently introduced modified Graeb score (mGS) in patients with aSAH.
Methods
A retrospective analysis of the validity of the oGS and mGS in 257 aSAH patients was performed to assess and compare the predictive value of hospital mortality, development of CHC, and early functional outcome.
Results
In univariate analysis, an increase in either the oGS or mGS was associated with a higher risk for hospital mortality, development of CHC, and poor early functional outcome. The correlation of the oGS and mGS was excellent using Pearson's product–moment (
r
 = 0.918;
p
 < 0.001). The predictive value of the oGS was superior to the predictive value of the mGS using receiver operating characteristics and corresponding area under the curve value as there was no statistical significant differences between the scores.
Conclusions
Our study confirms the validity of the recently introduced mGS to quantify the volume of IVH and extends its value in aSAH. However, the mGS offers no additional predictive value for hospital mortality, development of CHC, and poor early functional outcome in patients with aSAH patients compared to the less complex oGS.