01.12.2021 | Research | Ausgabe 1/2021 Open Access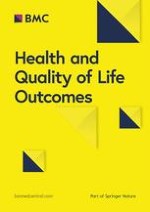 Validity and reliability of the Self-Care Activities Screening Scale (SASS-14) during COVID-19 lockdown
Zeitschrift:
Autoren:

Martín Martínez, Elkin O. Luis, Edwin Yair Oliveros, Pablo Fernández-Berrocal, Ainize Sarrionandia, Marta Vidaurreta, Elena Bermejo-Martins
Wichtige Hinweise
Publisher's Note
Springer Nature remains neutral with regard to jurisdictional claims in published maps and institutional affiliations.
Abbreviations
SASS
Self-care Activities Screening Scale
EFA
Exploratory Factor Analysis
CFA
Confirmatory Factor Analysis
NPA
Nutrition and Physical Activity
IICS
Interpersonal and intrapersonal coping strategies
PWBS
Physichological Well-Being Scale
PRO
Positive Relationships to Others
Background
Health is defined as "a state of complete physical, social and mental well-being and not merely the absence of disease or infirmity" [
1
]. However, it can be also considered from a more dynamic perspective as the ability to adapt and self-care in order to face physical, social and emotional challenges [
2
]. Self-care is considered as an important and valuable principle because it emphasizes the active role of people in maintaining their own wellbeing. Nowadays, there is resurgent interest in the concept and practice of self-care as an essential component of health promotion to improve health, wellness and wellbeing of individuals, and as a strategy to reduce the high costs of medical services [
3
,
4
].
Psychological impact of COVID-19 lockdown
The current ongoing pandemic coronavirus disease 2019 (COVID-19) has spread around the world while driving global actions. In addition to the fear of contracting the virus, this situation has led to significant changes to our daily lives. In order to support efforts to contain and slow down the spread of the virus, lockdown or mandatory quarantine was globally established. Despite the need of this Public Health recommended measure, our movements are restricted; people are facing new realities of working from home, temporary unemployment, home schooling of children, and lack of physical contact with other family members, friends and colleagues [
5
]. As result, people are very likely to develop a wide range of symptoms of psychological stress and disorder, including low mood, insomnia, stress, anxiety, anger, irritability, emotional exhaustion, depression and post-traumatic stress symptoms. Low mood and irritability specifically stand out as being very common [
6
]. However, getting involved in self-care activities as part of hygienic practices can help to manage stress and prevent difficulties and symptoms of health problems [
7
]. This scenario allows examining the main strategies that people are using for personal self-care, since confinement restrictions entail important changes on their daily habits and routines. This fact leads us to consider that a population brief screening of self-care activities might be used as an important strategy to look for as-yet-unrecognised health risk factors, which later, formal evaluation and intervention strategies can be addressed to.
Self-care conceptual model
Self-care measures
Several instruments have been developed to assess self-care in many different populations, and for various health conditions, such as patients with type 2 diabetes, [
21
], people with hypertension [
22
], children [
23
], or general adult population [
24
].
A recent systematic review was specifically conducted on the instruments designed to assess self-care in health promotion and maintenance in the adult population [
25
] in which nine instruments were identified: Appraisal of Self-care Agency Scale (ASA-A) [
26
,
27
], Denyes Self-Care Practice Instrument (DSCPI-90) [
28
], Denyes Self-Care Agency Instrument (DSCAI) [
29
], Exercise of Self-Care Agency (ESCA) [
30
], Lorensen's Self-care Capability Scale (LSCS) [
31
], Perceived Self-Care Agency Questionnaire (PSCAQ) [
32
], Self-care Ability Scale for the Elderly (SASE) [
33
], Self-as-Carer Inventory (SCI) [
34
], Self-Care of Home-Dwelling Elderly (SCHDE) [
35
]. In the above-mentioned revision most of the selected studies presented methodological limitations and their quality was rated as "negative or indeterminate" [
25
].
Despite the number of developed instruments related to the self-care concept, most of them are mainly based on the self-care agency attribute, which is defined as the capabilities of an individual to recognize his or her own needs and to assess personal and environmental resources [
36
]. However, to our knowledge, none has been identified to screen, assess or evaluate the specific dimension of self-care activities considering health consciousness as a key element of self-care.
Therefore, there is a need to develop a brief screening tool with appropriate psychometric properties (reliability and validity), to take measures to evaluate the self-care activities, including health consciousness dimension and that can be applied in similar situations when health and well-being is compromised. In this way, the focus of this study is to build a valid and reliable short tool for screening self-care activities in Spanish-speaker population during COVID-19 lockdown.
The specific objectives covered in this study were: (1) to design and explore the factorial structure of an original set of items to screen self-care activities in a COVID-19 confined sample, and (2) to confirm the factor structure of the tool in an independent COVID-19 confined sample. In addition, we examine the reliability of the proposed scale and its convergent validity with well-being and stress measures.
Methods
Results
Discussion
In this study, we develop and validate a brief tool for screening self-care in general population during the COVID-19 lockdown: the SASS-14. First, an EFA suggested that the instrument has a correlated four-factor structure, interpreted as health consciousness, nutrition and physical activity, sleep, and interpersonal and intrapersonal coping strategies. This factor structure was confirmed by the CFA performed on an independent sample. Lastly, the tool demonstrated to be a reliable measure with good internal consistency and convergent validity with psychological well-being and with perceived stress measures.
Conclusions
The SASS-14 is a short, reliable tool which appears to validly measure self-care activities in Spanish-speaker general population during a confinement situation. Clinically, this tool could be especially useful for exploring quickly promoting health behaviours in general population. Likewise, this tool can be also very helpful to screen self-care during stressful experiences as confinement situations can result. Further research should aim to replicate these results to understand if this construct can be reliably measured in other countries.
Acknowledgments
We would like to thank Silvia Maldonado, Cristian Cortes y Mª Sol Garcés for their support and contribution on the dissemination data collection of this project.
Ethics approval and consent to participate
All procedures performed in this work involving human participants were in accordance with the ethical standards of the Research Ethics Committee and by the Colombian standards for research in psychology.
Consent for publication
Not applicable.
Competing interests
The authors declare they have no competing interests.
Open Access
This article is licensed under a Creative Commons Attribution 4.0 International License, which permits use, sharing, adaptation, distribution and reproduction in any medium or format, as long as you give appropriate credit to the original author(s) and the source, provide a link to the Creative Commons licence, and indicate if changes were made. The images or other third party material in this article are included in the article's Creative Commons licence, unless indicated otherwise in a credit line to the material. If material is not included in the article's Creative Commons licence and your intended use is not permitted by statutory regulation or exceeds the permitted use, you will need to obtain permission directly from the copyright holder. To view a copy of this licence, visit
http://​creativecommons.​org/​licenses/​by/​4.​0/​
. The Creative Commons Public Domain Dedication waiver (
http://​creativecommons.​org/​publicdomain/​zero/​1.​0/​
) applies to the data made available in this article, unless otherwise stated in a credit line to the data.
Publisher's Note
Springer Nature remains neutral with regard to jurisdictional claims in published maps and institutional affiliations.