01.12.2016 | Research article | Ausgabe 1/2016 Open Access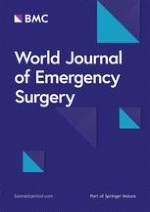 Validity of predictive factors of acute complicated appendicitis
Zeitschrift:
Autoren:

Yuki Imaoka, Toshiyuki Itamoto, Yuji Takakura, Takahisa Suzuki, Satoshi Ikeda, Takashi Urushihara
Abstract
Background
Our previous retrospective study revealed the three preoperative predictors of complicated appendicitis (perforated or gangrenous appendicitis), which are body temperature ≥37.4 °C, C-reactive protein ≥4.7 mg/dl, and fluid collection surrounding the appendix on computed tomography. We reported here an additional prospective study to verify our ability to predict complicated appendicitis using the three preoperative predictors and thus facilitate better informed decisions regarding emergency surgery during night or holiday shifts.
Methods
We prospectively evaluated 116 adult patients who underwent surgery for acute appendicitis from January 2013 to October 2014. Ninety patients with one or more predictive factors of complicated appendicitis underwent immediate surgery regardless of the time of patient's presentation. Twenty-six patients had no predictive factors and thus were suspected to have uncomplicated appendicitis. Of the 26 patients, 14 who presented to our hospital during office hours underwent immediate surgery. The other 12 patients who presented to our hospital at night or on a holiday underwent short, in-hospital delayed surgery during office hours.
Results
All patients with no predictive factors had uncomplicated appendicitis, whereas 37 %, 81 %, and 100 % of patients with one, two, or all three factors, respectively, were diagnosed with complicated appendicitis. The emergency operation rate decreased from 83 % before to 58 % after adopting this scoring system, but no significant differences in postoperative complication rates and hospitalization periods were observed.
Conclusions
The above-mentioned preoperative factors predictive of complicated appendicitis preoperatively are useful for emergency surgical decisions and reduce the burdens on surgeons and medical staff.