15.10.2020 | Original Article | Ausgabe 12/2020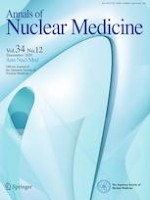 Value of 18F-FDG PET/CT for prognostic stratification in patients with primary intestinal diffuse large B cell lymphoma treated with an R-CHOP-like regimen
Zeitschrift:
Autoren:

Chong Jiang, Yue Teng, Jieyu Chen, Zhen Wang, Zhengyang Zhou, Chongyang Ding, Jingyan Xu
Wichtige Hinweise
Chong Jiang and Yue Teng are co-first authors. They contributed equally to the work.
Publisher's Note
Springer Nature remains neutral with regard to jurisdictional claims in published maps and institutional affiliations.
Abstract
Purpose
The prognostic value of 18F-FDG PET/CT for primary intestinal diffuse large B-cell lymphoma (PI-DLBCL) patients has not been determined. This prompted us to explore the value of 18F-FDG PET/CT for prognostic stratification in patients with PI-DLBCL treated with an R-CHOP-like regimen.
Materials and methods
Seventy-three PI-DLBCL patients who underwent baseline PET/CT between January 2010 and May 2019 were included in this retrospective study. Total metabolic tumor volume (TMTV) and total lesion glycolysis (TLG) were computed using the 41% SUVmax thresholding method. Progression-free survival (PFS) and overall survival (OS) were used as endpoints to evaluate prognosis.
Results
During the follow-up period of 3–117 months (29.0 ± 25.5 months), high TLG, non-germinal center B-cell-like (non-GCB) and high National Comprehensive Cancer Network International Prognostic Index (NCCN-IPI) were significantly associated with inferior PFS and OS. TLG, cell-of-origin and NCCN-IPI were independent predictors of PFS, and both TLG and NCCN-IPI were independent predictors of OS. The grading system was based on the number of risk factors (high TLG, non-GCB, high NCCN-IPI) and patients were divided into 4 risk groups (PFS:
χ
2
 = 33.858,
P
 < 0.001; OS:
χ
2
 = 29.435,
P
 < 0.001): low-risk group (none of the 3 risk factors, 18 patients); low-intermediate risk group (1 risk factor, 24 patients); high-intermediate risk group (2 risk factors, 16 patients); and high-risk group (all 3 risk factors, 15 patients).
Conclusions
High TLG, non-GCB and high NCCN-IPI can identify a subset of PI-DLBCL patients with inferior survival outcomes. Furthermore, the grading system can identify PI-DLBCL patient groups with markedly different prognoses, which might contribute to the adjustment of the therapeutic regime.