01.12.2017 | Research Article | Ausgabe 1/2017 Open Access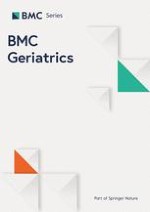 Value of soluble Urokinase plasminogen activator receptor over age as a biomarker of impaired myocardial relaxation
Zeitschrift:
Autoren:

Angela S. Koh, Bhaarathy Velmurugan, Fei Gao, Ru San Tan, Jia-Ing Wong, Louis L. Y. Teo, Bryan M. H. Keng, Serene J. M. Chua, Jian-Min Yuan, Woon-Puay Koh, Christine Cheung
Abstract
Background
SuPAR is a biomarker that reflects the level of immune activation. As inflammation plays an important role in the ageing process of the cardiovascular system, we hypothesized that suPAR might be a useful predictive biomarker of the ageing heart.
Methods
We performed conventional and tissue Doppler echocardiography and measured plasma suPAR levels.
Results
We studied community adults (n=120, 37.5% female) (mean age: 70.3±9.3 years) without known cardiovascular disease (CVD). Participants with impaired myocardial relaxation were older (84% vs 59% were aged ≥71 years,
p
=0.002), with more diabetes mellitus (27% vs 11%,
p
=0.034). SuPAR levels were higher among participants with impaired myocardial relaxation (3.9 ng/ml vs 3.0 ng/ml,
p
=0.015). At the univariate level, older age (OR 3.6; 95%CI 1.6, 8.5;
p
=0.003), diabetes mellitus (OR 3.04; 95%CI 1.1, 8.8;
p
=0.04), systolic blood pressure (OR 1.03; 95%CI 1.001, 1.1;
p
=0.041) and suPAR levels ≥3.00ng/ml (OR 3.4; 95%CI 1.16, 7.4;
p
=0.002) were associated with impaired myocardial relaxation. In multivariable regression analysis, only older age (OR 2.8; 95%CI 1.1, 6.7;
p
=0.026) and suPAR (OR 2.7; 95%CI 1.2, 6.1;
p
=0.018) remained independently associated with impaired myocardial relaxation. Receiver operating characteristics (ROC) curve analysis revealed an area under the curve (AUC) value of 0.63 (95% CI 0.54, 0.71) for model that included age alone. Addition of suPAR significantly increased AUC value to 0.70 (95%CI 0.60, 0.79), which was significantly larger than the model with age alone (
p
=0.016).
Conclusion
We demonstrate additional ability of suPAR, over age, to predict impaired myocardial relaxation.
Trial registration
ClinicalTrials.gov Identifier:
NCT02791139
(Registered May 31, 2016).