01.12.2015 | Research article | Ausgabe 1/2015 Open Access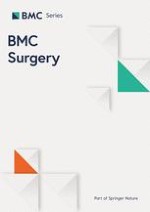 Variant meso-Rex bypass with transposition of abdominal autogenous vein for the management of idiopathic extrahepatic portal vein obstruction: a retrospective observational study
Zeitschrift:
Autoren:

Tae-Yong Ha, Kyung-Mo Kim, Gi-Young Ko, Seak Hee Oh, Tae-Won Kwon, Yong-Pil Cho, Sung-Gyu Lee
Wichtige Hinweise
Competing interests
The authors declare that they have no competing interests.
Authors' contributions
Concept and design, HTY, KKM, CYP, LSG; Analysis and interpretation of data, HTY, KKM, KGY, OSH, CYP, LSG; Drafting the paper, HTY, KKM, CYP, LSG; Data collection: KKM, OSH, KTW, CYP; Writing, HTY, KKM, OSH, CYP, LSG; Review, HTY, KKM, KGY, OSH, KTW, CYP, LSG. All the authors approved of the submitted and final versions.
Abstract
Background
The aim of this study was to evaluate whether variant meso-Rex bypass with transposition of abdominal autogenous vein can be used as an alternative treatment modality for selected patients with symptomatic extrahepatic portal vein obstruction.
Methods
This was a retrospective review of six consecutive patients who received this alternative procedure for the treatment of symptomatic portal hypertension secondary to idiopathic extrahepatic portal vein obstruction. Their clinical characteristics, operative procedures and outcomes were analyzed retrospectively.
Results
The procedure was attempted in six patients, and all had a patent shunt established by intraoperative portography at the end of the procedure; the coronary vein was used in four patients and the inferior mesenteric vein was used in two. During the median period of 23.5 months (range 10–30 months), follow-up was uneventful except one patient; reduced portal hypertension and no new episodes of gastrointestinal bleeding were observed in all patients, with the exception of one patient with shunt stenosis and recurrent varix bleeding who had to undergo endovascular treatment to restore portal vein blood flow. Technical and clinical success was achieved in all patients.
Conclusions
This procedure could be used safely and effectively to treat selected patients with portal hypertension secondary to extrahepatic portal vein obstruction.