01.03.2015 | Schwerpunkt | Ausgabe 1/2015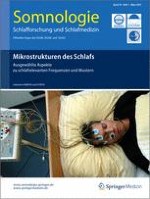 Variations in microstructures of REM sleep
Gender-specific differences and age-related variation
Zeitschrift:
Autoren:

PhD H. Danker-Hopfe, G. Gruber, E. Olbert, G. Dorffner, P. Anderer
Abstract
Objective
The purpose of the present study was to analyse gender- and age-specific variations in microstructures of rapid eye movement (REM) sleep and to provide reference values for microstructures.
Methods
The results are based on Somnolyzer 24 × 7 (The Siesta Group Schlafanalyse GmbH., Vienna, Austria) evaluation of data from the SIESTA database. Data from 160 healthy subjects (74 men and 86 women; age range 20–95 years) were considered and a total of 11 REM sleep-related variables analysed.
Results
Some of the variables, i.e., REM and slow eye movement (SEM) density, SEM intensity and the REM sleep arousal index, are fairly constant across ages and do not differ between men and women. The atonia index shows gender-specific differences, but does not vary with age among healthy subjects; whereas REM intensity and the time in tonic REM sleep decrease with age, without differences between men and women. Time in stage R sleep (minutes and percentage of total sleep time, TST) and the time in phasic stage R sleep vary with both age and gender.
Conclusion
Given the relevance of sleep microstructures in research and potentially also in clinical studies, there is a need for reference values indicating the range of variation of these variables in healthy subjects. Reference values always have the limitation that they refer to the specific method of assessment. Where different detection algorithms are used, the reference values might vary. The reference values presented here—where necessary for men and women separately and/or stratified by age—refer to microstructures assessed by the feature extraction module of the Somnolyzer 24 × 7.