21.09.2018 | Original Article | Ausgabe 1/2019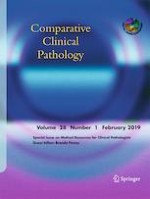 Variations of immunoglobulin A in serum, tracheal, and intestinal tissues in chickens following inoculation of two strains of Newcastle disease vaccines
Zeitschrift:
Autoren:

Keramat Asasi, Saeed Mokhayeri, Hassan Nili, Hadi Rohollahzadeh Lamesu, Amir Hossein Asl Najjari
Abstract
To elucidate secretory immunoglobulin A (IgA) response as a part of mucosal immunity, it is decided to compare the effectiveness of intraocular administration of Hitchner B1 and thermostable I-2 vaccines in broiler chickens challenged with viscerotropic velogenic Newcastle disease virus (vvNDV) (Herts33). For this purpose, 301-day-old chicks were randomly divided in to the four groups. Groups 1 and 2 were inoculated with I-2 and HB1 vaccines twice via intraocular route with 1-week intervals, and groups 3 and 4 were considered positive and negative controls and birds were challenged 2 weeks after the second inoculation. Protection rate in I-2 and HB1 vaccine groups was 100% and 97% respectively with no significant differences (
P
 > 0.05). All vaccinated groups showed elevation in ND HI antibody titer after vaccination. There were no significant differences (
P
 > 0.05) in ND HI antibody between two vaccinated groups. First levels of detectable total IgA in a serum sample were observed 3 dpv1. No significant differences (
P
 > 0.05) were observed between two vaccinated groups in IgA antibody titer in sera. The vaccinated groups were evaluated by IHC for detection IgA in the trachea and intestine. There were some differences between the vaccinated groups but these differences were not significant. Experimental studies have shown that both vaccines induce antibody production in mucosal surface and circulatory system and thermostable I-2 vaccine could be successfully used in the broiler chicken as effective as HB1 vaccine, so I-2 vaccine could be a suitable heat resistance candidate to reduce mortality in the poultry industry faced to vvND.