01.12.2018 | Case report | Ausgabe 1/2018 Open Access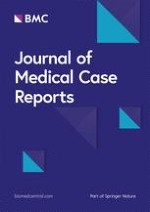 Varicocele due to renal arteriovenous malformation mimicking a renal tumor: a case report
Zeitschrift:
Autoren:

Peng-chao Li, Jia-yi Zhang, Yan-yan Xiu, Sheng Liu, Jin-guo Xia, Hai-bin Shi, Ning-hong Song
Abstract
Background
Renal arteriovenous malformation is an aberrant vascular connection between the renal artery and vein. Acquired renal arteriovenous malformation (arteriovenous fistulae) accounts for approximately 70% of renal arteriovenous abnormalities. Congenital renal arteriovenous malformation, relatively rare, can result in significant hematuria which may require arterial embolization or nephrectomy.
Case presentation
A 64-year-old Asian man presented to the Urology department in our hospital with gradual left scrotal swelling for 2 years. Ultrasound and computed tomography showed an irregular mass in the upper pole of his left kidney. Digital subtraction angiography confirmed cirsoid-type left renal arteriovenous malformation combined with left renal vein ostial stenosis. After digital subtraction angiography and selective segmental renal artery embolization, the varicocele was obviously alleviated.
Conclusions
The etiology diagnosis of varicocele is not always straightforward, and renal arteriovenous malformation should be considered in the differential diagnosis of varicocele and renal mass. Renal arteriovenous malformation is difficult to distinguish from renal tumor according to varicocele and computed tomography presentation, while magnetic resonance imaging and digital subtraction angiography help to make a definite diagnosis and selective renal angiographic embolization is one of the best treatments for renal arteriovenous malformation.