01.05.2011 | Clinical Research | Ausgabe 5/2011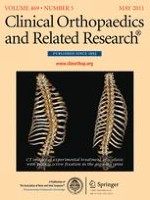 Vascular Abnormalities Correlate with Decreased Soft Tissue Volumes in Idiopathic Clubfoot
Zeitschrift:
Autoren:

MD Laura J. Merrill, MD, PhD Christina A. Gurnett, MD Marilyn Siegel, MD Sushil Sonavane, MD Matthew B. Dobbs
Wichtige Hinweise
One or more of the authors (LMN, CAG) have received funding from the NIH National Center for Research Resources (TL1 RR024995) and HIN K12 (HD001459). One or more of the authors (MBD, CAG) have received funding from The Children's Discovery Institute, March of Dimes Basil O'Connor Starter Scholar Research Award, St Louis Children's Hospital Foundation, Orthopaedic Research and Education Foundation, Pediatric Orthopaedic Society of North America, Mallinckrodt Institute of Radiology, and Shriners Hospital for Children.
Each author certifies that his or her institution approved the human protocol for this investigation, that all investigations were conducted in conformity with ethical principles of research, and that informed consent for participation in the study was obtained.
Abstract
Background
Lower extremity vascular anomalies have been described for patients with clubfoot but few imaging studies have investigated effects on soft tissues such as fat and muscle. To make these assessments we need noninvasive, noncontrast agents to more safely image children.
Questions/purposes
We describe a novel noninvasive imaging protocol to identify vascular and soft tissue abnormalities in the lower limbs of patients with clubfoot and determine whether these abnormalities are present in patients who had recurrent clubfoot.
Patients and Methods
Three-dimensional noncontrast-enhanced MR angiography was used to identify vascular, bone, and soft tissue abnormalities in patients with clubfoot. We determined whether these abnormalities were more common in patients who had experienced recurrent clubfoot.
Results
Four patients with isolated unilateral clubfoot had arterial anomalies in the clubfoot limb. All patients had less muscle volume in the affected limb, and nine of 11 patients (82%) had less subcutaneous fat, with a mean difference of 0.56 cm3 ± 0.36 cm3 (range, 0.08–1.12 cm3). Vascular anomalies and decreased fat and muscle volumes were present in all three patients with recurrent clubfoot.
Conclusions
We found a high frequency of vascular and soft tissue anomalies in the affected limbs of patients with unilateral clubfoot that may correlate with response to treatment.
Clinical Relevance
This approach has the potential to enhance our understanding of the anatomy of clubfoot and lead to a larger MRI study that may allow more accurate prediction of the risk of recurrent clubfoot.