01.12.2018 | Research article | Ausgabe 1/2018 Open Access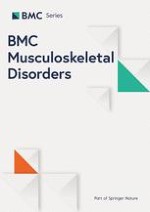 Vascular endothelial growth factor expression and their action in the synovial membranes of patients with painful knee osteoarthritis
Zeitschrift:
Autoren:

Shotaro Takano, Kentaro Uchida, Gen Inoue, Toshihide Matsumoto, Jun Aikawa, Dai Iwase, Manabu Mukai, Masayuki Miyagi, Masashi Takaso
Abstract
Background
Research suggests that vascular endothelial growth factor (VEGF) levels in the synovial fluid of knee osteoarthritis (KOA) patients are positively correlated with KOA severity. The relationship between synovial VEGF levels and pain in human KOA patients is not fully understood, and the role of VEGF in the pain pathway remains unclear.
Methods
We harvested synovial membrane (SM) from 102 patients with radiographic evidence of KOA (unilateral Kellgren/Lawrence [K/L] grade 2–4) during total knee arthroplasty. Patients scored their pain on a 0 to 10 cm visual analog scale (VAS). VEGF levels in the SM of KOA patients with strong/severe (VAS ≥ 6) and mild/moderate pain (VAS < 6) were compared. Correlations between VAS and VEGF mRNA expression were investigated. To investigate a possible mechanism for VEGF-induced pain, the distribution of VEGF and the neuropeptide apelin was determined by immunohistochemical analyses. To investigate the role of VEGF in regulating apelin expression, SM cells were exposed to VEGF.
Results
VEGF expression in the VAS ≥ 6 group was significantly greater than expression in the VAS < 6 group. Expression levels of VEGF were also positively correlated with VAS. VEGF-positive cells were identified in the lining of the SM. Expression of apelin mRNA and protein were significantly elevated in SM cells treated with exogenous VEGF compared to those treated with vehicle.
Conclusion
Synovial VEGF may be involved in pain pathways in KOA and its action may be mediated by apelin.