27.02.2019 | Original Article – Clinical Oncology | Ausgabe 4/2019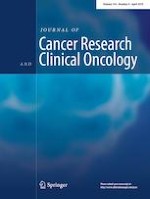 Vascular endothelial growth factor receptor 2 (VEGFR2) correlates with long-term survival in patients with advanced high-grade serous ovarian cancer (HGSOC): a study from the Tumor Bank Ovarian Cancer (TOC) Consortium
Zeitschrift:
Autoren:

Jun Guan, Silvia Darb-Esfahani, Rolf Richter, Eliane T. Taube, Ilary Ruscito, Sven Mahner, Linn Woelber, Katharina Prieske, Nicole Concin, Ignace Vergote, Els Van Nieuwenhuysen, Patriciu Achimas-Cadariu, Joanna Glajzer, Hannah Woopen, Mandy Stanske, Hagen Kulbe, Carsten Denkert, Jalid Sehouli, Elena Ioana Braicu
Wichtige Hinweise
Publisher's Note
Springer Nature remains neutral with regard to jurisdictional claims in published maps and institutional affiliations.
Abstract
Objective
The impact of angiogenesis on long-term survival of high-grade serous ovarian cancer (HGSOC) patients remains unclear. This study investigated whether angiogenic markers correlated with 5-year progression-free survival (PFS) in a large cohort of matched advanced HGSOC tissue samples.
Methods
Tumor samples from 124 primary HGSOC patients were retrospectively collected within the Tumor Bank Ovarian Cancer (
http://​www.​toc-network.​de
). All patients were in advanced stages (FIGO stage III–IV). No patient had received anti-angiogenesis therapy. The cohort contains 62 long-term survivors and 62 controls matched by age and post-surgical tumor residuals. Long-term survivors were defined as patients with no relapse within 5 years after the end of first-line chemotherapy. Controls were patients who suffered from first relapse within 6–36 months after primary treatment. Samples were assessed for immunohistochemical expression of vascular endothelial growth factor (VEGF) A and VEGF receptor 2 (VEGFR2). Expression profiles of VEGFA and VEGFR2 were compared between the two groups.
Results
Significant correlation between VEGFA and VEGFR2 expression was observed (
p
 < 0.0001, Spearman coefficient 0.347). A high expression of VEGFR2 (VEGFR2
high
) was found more frequently in long-term survivors (77.4%, 48/62) than in controls (51.6%, 30/62,
p
 = 0.001), independent of FIGO stage and VEGFA expression in multivariate analysis (
p
 = 0.005). Also, VEGFR2
high
was found the most frequently in women with PFS ≥ 10 years (
p
 = 0.001) among all 124 patients. However, no significant association was detected between VEGFA expression and 5-year PFS (
p
 = 0.075).
Conclusions
VEGFR2 overexpression significantly correlated with long-term PFS in HGSOC patients, independent of age, FIGO stage, tumor residual and VEGFA expression.