01.12.2019 | Research article | Ausgabe 1/2019 Open Access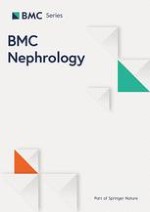 Vasoactive intestinal peptide ameliorates renal injury in a pristane-induced lupus mouse model by modulating Th17/Treg balance
Zeitschrift:
Autoren:

Dongdong Fu, Soulixay Senouthai, Junjie Wang, Yanwu You
Wichtige Hinweise
Dongdong Fu, Soulixay Senouthai and Junjie Wang are co-first authors.
Publisher's Note
Springer Nature remains neutral with regard to jurisdictional claims in published maps and institutional affiliations.
Abstract
Background
Lupus nephritis (LN) is an inflammation of the kidneys and is a major cause of mortality in systemic lupus erythaematosus (SLE) patients. In addition, Th17/Treg balance is one of the most important factors that can promote the development of LN. It has been reported that vasoactive intestinal peptide (VIP) is associated with the downregulation of both inflammatory and autoimmune diseases through regulating T lymphocyte balance. Therefore, the aim of this study was to determine the role of VIP in modulating Th17/Treg balance in LN.
Methods
LN was induced in BALB/c female mice by injection pristane. After 3 months, mice were randomly divided into four groups: control, VIP + control, LN and VIP + LN. Autoantibody levels were tested by ELISA. The distribution of Th17/Treg cells in vivo and in vitro was detected by FC. Renal tissues were examined by PASM and DIF for pathology and Foxp3+CD3+. The mRNA and protein expression levels of pro- and anti-inflammatory cytokines were detected by qRT-PCR and western blotting.
Results
VIP can improve renal injury by regulating Th17/Treg imbalance in LN mice. Proteinuria, renal function defects and autoantibodies were significantly decreased, and Th17/Treg cell balance was restored in VIP compared with LN mice. In addition, VIP improved renal lesions by promoting the expression of Foxp3+CD3+ in renal tissue. Furthermore, VIP downregulated the mRNA and protein expression of IL-17, IL-6 and upregulated Foxp3, IL-10 expression.
Conclusions
VIP reduced LN proteinuria and renal function defects and restored the Th17/Treg cell balance. Furthermore, VIP also downregulated autoantibody and inflammatory cytokine expression and upregulated Foxp3 and IL-10 expression.