01.12.2017 | Research | Ausgabe 1/2017 Open Access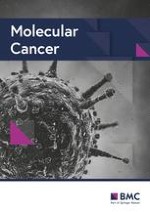 Vasohibin 2 reduces chemosensitivity to gemcitabine in pancreatic cancer cells via Jun proto-oncogene dependent transactivation of ribonucleotide reductase regulatory subunit M2
Zeitschrift:
Autoren:

Min Tu, Haifeng Li, Nan Lv, Chunhua Xi, Zipeng Lu, Jishu Wei, Jianmin Chen, Feng Guo, Kuirong Jiang, Guoxin Song, Wentao Gao, Yi Miao
Wichtige Hinweise
Electronic supplementary material
The online version of this article (doi:
10.​1186/​s12943-017-0619-6
) contains supplementary material, which is available to authorized users.
Abstract
Background
Vasohibin 2 (VASH2) has previously been identified as an agiogenenic factor and a cancer related protein. Here we investigated the association of VASH2 expression and chemoresistance in pancreatic cancer.
Methods
Immunohistochemical staining for VASH2 was performed on 102 human pancreatic cancer samples. Pancreatic cancer cell line models exhibiting overexpression or knockdown of VASH2 were generated. Gene expression analyses were carried out to determine genes differentially regulated by VASH2. Putative transcription factors that are downstream mediators of gene expression regulated by VASH2 were queried bioinformatically. Dual-luciferase reporter assays and ChIP assays were performed to confirm transactivation of target genes following VASH2 overexpression or knockdown.
Results
VASH2 protein expression was higher in human pancreatic cancer than in paired adjacent tissues and elevated VASH2 levels were associated with gemcitabine chemoresistance. In cell line models of pancreatic cancer, VASH2 expression induced gemcitabine chemoresistance in vitro and in vivo. It was discovered that expression of ribonucleotide reductase regulatory subunit M2 (RRM2) is regulated by VASH2; immunohistochemical analysis demonstrated a positive association of VASH2 expression and RRM2 expression in human pancreatic cancer tissues. Bioinformatics analyses revealed that induction of the Jun proto-oncogene (JUN) by VASH2 is responsible for upregulation of RRM2 expression; this JUN-dependent regulation of RRM2 by VASH2 was confirmed by chromatin immunoprecipitation and dual luciferase reporter assays, which demonstrated that JUN directly binds with the RRM2 promoter to activate transcription.
Conclusions
These data suggest that VASH2 reduces the chemosensitivity to gemcitabine in pancreatic cancer cells via JUN-dependent transactivation of RRM2.