01.03.2012 | Original Article | Ausgabe 2/2012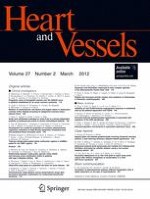 Vasomotor and fibrinolytic responses to kinin receptor agonists in the atherosclerotic human lower limb
Zeitschrift:
Autoren:

Nicholas L. M. Cruden, Ninian N. Lang, Thomas J. MacGillivray, Neal G. Uren, Keith A. A. Fox, David E. Newby
Abstract
Upregulation of vascular B
1
kinin receptor expression has been reported in human atheroma, but its role remains unclear. We examined vasomotor and fibrinolytic responses to selective B
1
and B
2
kinin receptor agonism in the human femoral circulation and correlated responses with femoral arterial plaque load. Femoral arterial cross-sectional area, blood flow and plaque volume were determined using intravascular ultrasound and Doppler during selective arterial infusion of Lys-des-Arg
9
-bradykinin (B
1
agonist), bradykinin (B
2
agonist) and sodium nitroprusside in eleven patients undergoing diagnostic coronary angiography. Net release of tissue plasminogen activator was determined across the femoral vascular bed. Mean femoral arterial plaque load was 8.1 (±0.9) mm
3
/mm of vessel. Bradykinin and sodium nitroprusside caused dose-dependent increases in femoral blood flow (
p
< 0.05 and
p
< 0.005, respectively). Bradykinin caused a dose-dependent increase in net tissue plasminogen activator release (
p
< 0.05), which was augmented by angiotensin-converting enzyme inhibition (
p
< 0.05). There were no correlations between plaque load and bradykinin-mediated vasodilation or tissue plasminogen activator release. Lys-des-Arg
9
-bradykinin had no effect on blood flow or tissue plasminogen activator release. The vasomotor and fibrinolytic actions of bradykinin in the femoral circulation are mediated solely by the B
2
kinin receptor, irrespective of the presence of atheroma. In keeping with previous data, bradykinin-mediated tissue plasminogen activator release was augmented in the presence of angiotensin-converting enzyme inhibition consistent with its putative vascular protective effect.