01.12.2015 | Research article | Ausgabe 1/2015 Open Access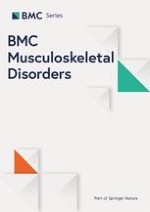 Vastus medialis oblique and vastus lateralis activity during a double-leg semisquat with or without hip adduction in patients with patellofemoral pain syndrome
Zeitschrift:
Autoren:

Ping Miao, Yi Xu, Cuihuan Pan, Hao Liu, Chuhuai Wang
Wichtige Hinweise
Competing interests
Authors' contribution
PM carried out the sEMG data collection and analysis, participated in study design and drafted the manuscript. YX participated in data collection and performed the statistical analysis. CP participated in the subjects' recruitment. HL participated in the design of the study and helped to draft the manuscript. CW conceived of the study, and participated in its design and coordination and helped to draft the manuscript. All authors read and approved the final manuscript.
Abstract
Background
The purpose was to investigate the effect of double-leg semisquat with hip adduction on the activation of vastus medialis oblique (VMO) and vastus lateralis (VL) in patients with patellofemoral pain syndrome (PFPS).
Methods
Thirty patients with PFPS were designated to the study group, while 30 healthy matched subjects were enrolled in the control group. The activation of VL and VMO was recorded with surface electromyography (EMG) during double-leg semisquat (DS) and double-leg semisquat with hip adduction (DS-HA). The time domain and frequency domain indexes of the electromyography data were collected for analysis.
Results
In the study group, the time domain indexes (RMS, IEMG) and frequency domain index (MPF) of VL were significant higher than VMO in the test of DS (
P
 < 0.05); and the time domain of VMO was significantly higher in the test of DS-HA when compared to DS (
P
 < 0.05) while there was no difference in the activation of VL.
Conclusions
In the study group, an increase in activity of the VMO was observed through the surface EMG signal in the double-leg semisquat exercise with hip adduction compared to the exercise without hip adduction. This finding indicates that VMO activation can be more selectively obtained through the exercise with hip adduction which can help balance the VL and VMO.