08.10.2018 | Original Article | Ausgabe 2/2019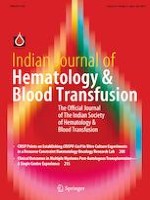 VEGF Promoter Region 18-bp Insertion-Deletion Polymorphism in Sickle Cell Disease Patients with Microalbuminuria: A Pilot Study
Zeitschrift:
Autoren:

Dnyanesh B. Amle, Rachana L. Patnayak, Varsha Verma, Gajendra Kumar Singh, Vijaylakshmi Jain, P. K. Khodiar, P. K. Patra
Abstract
Purpose
Vascular endothelial growth factor (VEGF) is a potent inducer of micro vascular permeability thus leading to nephropathy. Insertion/deletion (I/D) polymorphism of 18 bp at − 2549 position in VEGF gene causes increased transcription leading to increased production of VEGF. Thus, we aimed to associate I/D polymorphism of the 18 bp fragment at − 2549 position of the promoter region of VEGF gene with sickle cell nephropathy (SCN).
Methods
This observational analytical case control study included 30 subjects each of SCN, sickle cell disease (SCD) without nephropathy and the control group. The subjects were assessed for various hematological and biochemical parameters. Further, 18 bp I/D polymorphism of VEGF gene in all three study groups was assessed by polymerase chain reaction followed by electrophoresis and compared.
Result
Though increased frequency of both DD genotype and D allele was found in SCN compared to SCD and control, only frequency of D allele was found to be significantly higher (
p 
= 0.04). D allele posed marginal risk of microalbuminuria in SCD subjects compared to controls (OR = 2.11) as well as to SCD without MA subjects (OR = 1.84).
Conclusion
D allele in I/D polymorphism in the promoter region of VEGF gene may be associated with marginal increase in risk of susceptibility to sickle cell nephropathy.