01.12.2017 | Research article | Ausgabe 1/2017 Open Access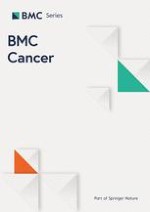 VEGFR2 regulates endothelial differentiation of colon cancer cells
Zeitschrift:
Autoren:

Zhiyong Liu, Lisha Qi, Yixian Li, Xiulan Zhao, Baocun Sun
Abbreviations
CD31
Cluster of differentiation 31
CD34
Cluster of differentiation 34
EMT
Epithelial-mesenchymal transition
ERK
Extracellular signal-regulated kinase
SDF-1
Stromal cell-derived factor 1
VE-cadherin
Vascular endothelial-cadherin
VEGF
Vascular endothelial growth factor
VEGFR
Vascular endothelial growth factor receptor
Background
Angiogenesis is one of the hallmarks in tumor growth, expansion, and progression [
1
]. In surrounding, pre-existing vascular network, endothelial cells form new irregular blood vessels and supply tumors with nutrients and oxygen [
2
]. Although drugs were identified as crucial therapeutic strategy in multiple and different solid tumors, they are not very effective and may elicit more aggressive tumor phenotypes [
3
,
4
]. Over the last few years, studies identified heterogeneous tumor vasculature mechanisms, including vessel co-option, recruitment of endothelial precursor cells, and vasculogenic mimicry (VM) [
5
–
7
]. Tumor cells play important roles in angiogenesis. Tumor cells secrete pro-angiogenic growth factors and cytokines to induce angiogenesis; they also have stem cell properties and transdifferentiate into cells with endothelial phenotypes and directly participate in tumor vasculogenesis. Stem-like cells in glioblastoma contribute proportion of endothelial cells by endothelial differentiation [
8
,
9
]. Moreover, through VM, tumor cells form fluid conducting networks in melanoma, lung, breast, ovary, and prostate cancers [
10
–
14
]. Our previous study also demonstrated that VM exists in colon cancer, and its occurrence is strongly associated with undesirable clinical outcomes [
15
]. Both angiogenesis and vasculogenesis are involved in tumor vascularization. Thus, both processes should be considered in development of antitumor therapies aimed at tumor blood supply.
Many cellular factors and molecular events drive tumor stem-like cells to express endothelial phenotypes; these factor and events include vascular endothelial (VE)-cadherin, stromal cell-derived factor 1 (SDF-1), and Twist1-Bmi1 and epithelial-mesenchymal transition (EMT), hypoxia, or oxygen-glucose deprivation [
16
–
21
]. However, despite these numerous variables, we still need to investigate exact mechanism of expression of concerned cells to further define potential targets.
Several researchers highlighted roles of paracrine factors released by cancer cells in targeting receptors on endothelial cell surface [
22
,
23
]. Tumor cells express high levels of VEGF-A, a major player of VEGF family, which binds and activates VE growth factor receptor (VEGFR) 1 and VEGFR2 with high affinity. VEGFR2 is expressed mostly in endothelial cells and is up-regulated in tumor vasculature. Shalaby showed that VEGFR2 gene knockdown mice died because of insufficient vasculogenesis [
24
]. Lyden et al. described that VEGFR2 is also expressed in hematopoietic stem cells, which are possible progenitors of endothelial cells [
25
]. VEGFR2 also interacts with "angiogenic switch," VE-cadherin [
26
]. These results indicate that VEGFR2 is essential for differentiation of endothelial precursor cells and vasculogenesis. However, further studies still need to clarify the role of VEGFR2 in inducing endothelial-differentiation of tumor stem-like cells.
In this study, we cultured colon cancer cells in endothelial-inducing conditioned medium and observed that poorly differentiated human colon cancer cells (HCT116) could express endothelial markers (cluster of differentiation (CD) 31, CD34, and VE-cadherin) and had increased ability to form tube-like structures in 3D culture in vitro. To mimic tumor microenvironment, we further cultured HCT116 cells under hypoxia and noted that cells secreted more endogenous VEGF and expressed higher VEGFR2. Antagonizing VEGFR2 by SKLB1002 in HCT116 cells impaired endothelial differentiation, as shown by in vitro and xenotransplantation experiments. In addition, we studied clinicopathological and prognostic significance of VEGFR2 in 203 human colon cancer samples and its correlation with VE-cadherin.
Methods
Cell culture reagents and animals
The human colon cancer cell lines HT29 (No.3111C0001CCC000109), SW480 (No.3111C0001CCC000166), HCT116 (No.3111C0001CCC000331) were obtained from the Cell Resource Center at the Institute of Basic Medical Sciences, Chinese Academy of Medical Sciences/Peking Union Medical College (Beijing, China). Cells were cultured in Iscove Modified Dulbecco Medium (IMDM) with 10% FBS (Hyclone, Logan, Utah, USA) and with or without VEGF (10 ng/ml, R&D Systems Inc., Minneapolis, MN, USA), EGF (10 ng/ml, R&D Systems Inc.) and b-FGF(5 ng/mL, R&D Systems Inc.). SKLB1002 was obtained from Selleck Chemicals (Houston, TX, USA). For in vitro assays, SKLB1002 was prepared initially as a 20 mmol/L stock solution in DMSO. Stock solution was diluted in the relevant assay media, and 0.1% DMSO served as a vehicle control. In some in vitro experiments, HCT116 cells were treated with SKLB1002 at 10 ng/mL for 24 h. For in vivo study in mice, SKLB1002 was suspended in 35% (
v
/v) polyethylene glycol solution containing 5% (
v
/v) DMSO and dosed at 0.1 mL/10 g of body weight. Experiments under hypoxic conditions (1% O2) were performed in hypoxic workstation Invivo2 400 (Biotrace International) for 24 h in some in vitro experiments.
In vitro three-dimensional (3-D) coculture
Tube-structure-forming ability was tested by using 3D culture in vitro. Matrigel (0.1 mL/well) was applied on the 24-well culture plate and incubated at 37 °C for half an hour. After been trypsinized and suspended in the complete medium at 2.5 × 105cells/mL, the cells were plated onto the surface of Matrigel at 1 mL/well, and incubated at 37 °C for 48 h. Ten fields were counted for the graphical representation of the tube formation assays.
ELISA
Cells were cultured in serum-free conditions, and the culture supernatants were collected after 72 h. Levels of VEGF protein Secretion in the supernatants were measured by using a commercially availableVEGF-A Quantikine ELISA kit (R&D Systems). Each sample was assayed in triplicate.
Immunofluorescence
Antibodies to CD34, CD31, and VE-cadherin were from Abcam (Cambridge, UK). Antibodies to goat anti-rabbit and goat anti-mouse IgG-FITC were from Santa Cruz Biotechnology (Santa Cruz, CA, USA). Alexa Fluor 488 and 546 were from Molecular Probes (Eugene, OR, USA). Briefly, HCT116 cells cultured on sterile glass cover slips were fixed with 4% paraformaldehyde, quenched with 50 mmol/L NH4Cl, permeabilized in 0.2% Triton X-100, and blocked in 3% BSA. The slips were incubated with the primary antibodies overnight at 4 °C, labeled with the specific secondary antibodies for 1 h in the dark, counterstained with DAPI, mounted, and viewed with fluorescent microscopy (Olympus).
Immunoblotting
Cells were lysed and Protein extracts (50–100 μg/lane) was separated in a 10% SDS-polyacrylamide gel electrophoresis and transferred on polyvinylidene difluoride membranes. Blots were blocked and incubated with primary antibodies over night at 4 °C, probed with secondary antibody (Santa Cruz Biotechnology), and visualized with ECL Western blot substrate (Millipore). The following antibodies were used: anti–CD31, anti-CD34, anti VE-cadherin, anti–phosphorylated VEGFR2, anti-FAK, anti-ERK (cell signaling technology), anti-phosphorylated ERK1/2 (cell signaling technology), anti–phosphorylated FAK (cell signaling technology), anti-VEGFR2(Santa Cruz Biotechnology), anti-VEGFR2(Santa Cruz Biotechnology), anti-VEGFR3(Santa Cruz Biotechnology), and anti-β-actin (Santa Cruz Biotechnology). The western blots representative data are from 3 experiments.
Xenograft mouse model
Twenty female athymic (nu/nu) nude mice (4–5 weeks old) were obtained from Wei Tong Li Hua Experimental Animal Company (Beijing, China). The mice were randomly and evenly divided into two groups and given 1 × 10 6 HCT116 cells by subcutaneous injection in left groin. After 10 days of inoculation, mice bearing tumors around 50 mm3, the SKLB1002 treatments were started. The control group was injected with the same amount of vehicle solution. The dosing schedules were SKLB1002 100 mg/kg/d or vehicle once a day intraperitoneally. Tumor size was measured every 5 days for 30 days. Tumor volumes were calculated using the following formula: volume = (length × width 2)/2. At the end of experiment, mice were euthanized. Tumor samples were formalin fixed, paraffin embedded, and processed for hematoxylin & eosin (H&E) and immunohistochemical analysis.
Clinical samples
Tissue samples of colon cancer were harvested from 203 patients who had undergone surgery for colon cancer in Tianjin Medical University Cancer Institute and Hospital (Tianjin, China) between January 2002 and December 2004. None of the patients had received any chemotherapy or radiotherapy before their operation. Data of clinicopathological parameters were obtained from patients' clinical records and pathological reports. The follow-up time ranged from 2 to 109 months with a median of 47.1 months.
Hematoxylin & eosin staining and the evaluation of the non-necrosis area
H&E staining were performed to examine the necrosis of tumor mass of Xenograft mice. Tissue samples were sectioned (thickness, 5 μm) and deparaffinized in xylene. Tissue sections were stained with hematoxylin and eosin, cleared in xylene and mounted on slides using neutral balsam. The photos were captured by the software Image-Pro Plus (Media Cybernetics, MD, USA). Based on the different color of the necrotic and non-necrotic areas, the software calculated the level of non-necrosis (as a percentage of the total area relative to the entire histological section). The results were presented as mean and standard deviation.
Immunohistochemical staining
Typically, the sections were pretreated with microwaves, blocked, and incubated with antibodies (VEGFR2,1:100 or VE-cadherin, 1:100) overnight at 4 °C, then were immunostained with HRP-conjugated antibody. Signals were revealed using 3,3-diaminobenzidine buffer as substrate. PBS was used as the negative control. The expression of VEGFR2 and VE-cadherin was analyzed only histologically in neoplastic epithelial cells. The staining intensity of sections was graded on a scale from 0 to 2 (0 for no staining, 1 for weak immunoreactivity, 2 for strong immunoreactivity). Percentage immunoreactivity was scored on a scale from 0 to 3 (0 for no positive cells, 1 for <25% of cells being positive, 2 for 25% to 50% of cells being positive, and 3 for >50% of cells being positive). The two scores were multipled to obtain a composite expression score. Either VEGFR2 or VE-cadherin expression was classified as negative (score = 0), weakly positive (score = 1, 2, or 3), or strongly positive (score = 4, 5, or 6). The sections were scored blindly by two observers using a microscope at ×200 magnification.
Statistical analysis
SPSS v.16.0 software (SPSS Inc., Chicago, IL, USA) was used for data analysis. The associations between VEGFR2 and clinicopathologic parameters and the differential expression of VE-cadherin between different VEGFR2 expression level groups were assessed with Fisher's exact test and chi-square test. Differences or correlations between groups were assessed by the Mann–Whitney U-test, Student's t-test and Pearson's correlation test. Survival analysis was carried out according to Kaplan–Meier. Differences in survival curves were assessed using the log rank test. Significance was set at
P
< 0.05.
Results
Discussion
In summary, colon cancer cells can transdifferentiate along endothelial lineages, both morphologically and functionally. More importantly, this study indicated critical role of VEGFR2 in promoting endothelial differentiation of colon cancer cells. Results pose several implications for underlying importance of VEGFR2 as useful therapy target.
Conclusions
Poorly differentiated HCT116 colon cancer cell in endothelial cell inducing conditions (specific media or hypoxia) results in endothelial phenotype. VEGFR2 regulates endothelial differentiation of colon cancer cell and may be potential platform for anti-angiogenesis cancer therapy.
Acknowledgements
Not applicable
Funding
This study was supported by the Key Project of the National Natural Science Foundation of China (No. 81230050, No. 81201648, No. 81402420, No. 81402391, No. 81173091 and No. 81172046), the Project of Tianjin Natural Science Foundation (No. 15JCQNJC12400, No. 12JCZDJC23600), the Project of Tianjin Municipal Health Bureau(2015KZ082) and the Science Foundation of Tianjin Medical University (NO. 2013KYQ08). The funders had no role in the study design, data collection and analysis, decision to publish, or preparation of the manuscript.
Availability of data and materials
Information is included in the Methods section. The datasets used and/or analysed during the current study available from the corresponding author on reasonable request.
Ethics approval and consent to participate
This study was approved by the Ethics Committee of Tianjin Medical University Cancer Institute and Hospital, and written informed consent was obtained from all participants. All animal experiments have been approved by Ethics Committee on animal experiments of Tianjin Medical University Cancer Institute and Hospital.
Consent for publication
Not applicable
Competing interests
The authors declare that they have no competing interests.
Publisher's Note
Springer Nature remains neutral with regard to jurisdictional claims in published maps and institutional affiliations.
Open Access
This article is distributed under the terms of the Creative Commons Attribution 4.0 International License (
http://​creativecommons.​org/​licenses/​by/​4.​0/​
), which permits unrestricted use, distribution, and reproduction in any medium, provided you give appropriate credit to the original author(s) and the source, provide a link to the Creative Commons license, and indicate if changes were made. The Creative Commons Public Domain Dedication waiver (
http://​creativecommons.​org/​publicdomain/​zero/​1.​0/​
) applies to the data made available in this article, unless otherwise stated.