25.03.2020 | Übersicht | Ausgabe 2/2020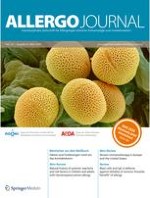 Venom immunotherapy in Europe and the United States
Zeitschrift:
Autoren:

Beatrice Bilò, Matteo Martini, Chiara Tontini, Leonardo Antonicelli
Abstract
Background:
Hymenoptera stings are accountable for significant morbidity and deterioration in health-related quality of life due to the allergic reactions they cause, the most severe of which can culminate in fatal anaphylaxis. The availability of high quality venom extracts for use in the diagnosis and treatment of insect venom allergy has improved the prognosis and the health-related quality of life of venom-allergic patients. All over the world subcutaneous venom immunotherapy is currently the most effective form of allergen-based immunotherapy with an early, sustained and long-term efficacy. Even though the type of insect responsible for allergic reactions may be different from Europe and US and therefore also the type of extract, nevertheless indications and contraindications are quite similar, as well as treatment protocols and treatment duration. However, neither the efficacy nor the safety of the treatment are optimal, especially with regard to bee venom immunotherapy, and so there is considerable room for further improvement in these important areas.
Purpose:
This review presents the current practice of venom immunotherapy in Europe and United States discussed at the EAACI (European Academy of Allergy and Clinical Immunology) Allergy School on Insect Venom held in Groningen in April 2019.