08.05.2020 | Übersicht | Ausgabe 3/2020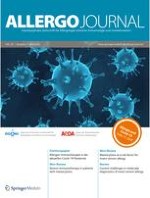 Venom immunotherapy in patients with mastocytosis
Zeitschrift:
Autoren:

David González-de-Olano, Iván Álvarez-Twose, Arantza Vega-Castro
Abstract
Background:
A clear relationship has been demonstrated between hymenoptera venom anaphylaxis (HVA) and primary mast cell activation syndromes (MCAS).
Methods:
This review describes the clinical and biological characteristics of patients with primary MCAS who present with HVA, the diagnostic tests that have demonstrated to be useful, and the safety and effectiveness of venom immunotherapy (VIT) in these individuals.
Results:
Patients presenting with dizziness or hypotension and without skin involvement after an insect sting are at an increased risk of presenting clonal mast cells (MCs). They usually have low MC burden and highly sensitive techniques are mandatory to reach a final assessment. Skin testing and determinations of specific IgE are useful in detecting patients who are candidates for VIT, which has proved to be safe and effective.
Conclusions:
Patients with primary MCAS and IgE-mediated HVA are candidates to receive VIT. Their management does not differ much from general population with the exception of VIT duration.