28.11.2016 | Original Article - Neurosurgical Techniques | Ausgabe 2/2017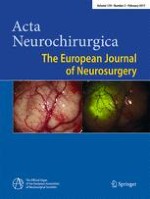 Venous air embolism in the sitting position in cranial neurosurgery: incidence and severity according to the used monitoring
Zeitschrift:
Autoren:

Franziska Günther, Paul Frank, Makoto Nakamura, Elvis Josef Hermann, Thomas Palmaers
Wichtige Hinweise
The authors are responsible for all manuscript contents and assure that this manuscript is not under consideration for publication elsewhere and the contents contain no details of any prior partial publication.
Franziska Günther and Paul Frank contributed equally to this work.
Comments
This is one of multiple papers published in the last decade demonstrating the safety of the sitting position when executed, as anything else in human endeavor, by a competent team. Clearly the bad reputation that the sitting position has had in the last 20 years is not evidence based, but rather the result of different factors including perhaps a more timid approach by our neuro-anesthesia colleagues. While many operations may be properly executed in different positions by a competent team, it is time that the sitting position regains its legitimate place in neurosurgery and that its nuances be once again considered by neurosurgical and anesthesia residents.
Mario Ammirati
Ohio, USA
Abstract
Background
There is an ongoing debate about the sitting position (SP) in neurosurgical patients. The SP provides a number of advantages as well as severe complications such as commonly concerning venous air embolism (VAE). The best monitoring system for the detection of VAE is still controversial.
Methods
In this retrospective analysis we compared 208 patients. Transesophageal echocardiography (TEE) or transthoracic Doppler (TTD) were used as monitoring devices to detect VAE; 101 cases were monitored with TEE and 107 with TTD.
Results
The overall incidence of VAE was 23% (TTD: 10%; TEE: 37%), but the incidence of clinically relevant VAE (drop in end-tidal carbon dioxide above 3 mmHg) was higher in the TTD group (9 out of 17 VAE, 53%) compared to the TEE group (19 out of 62 VAE, 31%). None of the patients with recorded VAE had clinically significant sequelae.
Conclusions
In this small sample we found more VAE events in the TEE group, but the incidence of clinically relevant VAE was rare and comparable to other data. There is no consensus in the definition of clinically relevant VAE.