06.04.2018 | Retinal Disorders | Ausgabe 6/2018 Open Access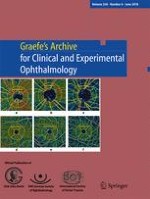 Venous beading in two or more quadrants might not be a sensitive grading criterion for severe nonproliferative diabetic retinopathy
Autoren:

Ling Chen, Xiongze Zhang, Feng Wen
Abstract
Purpose
To determine whether venous beading (VB) in two or more quadrants is an appropriate grading criterion for severe nonproliferative diabetic retinopathy (NPDR).
Methods
A hospital-based, retrospective, cross-sectional study. A total of 806 patients admitted with diabetic retinopathy (DR) from January 2014 to April 2017 were included in this study. DR severity was graded by the international grading criterion. The status of VB, intraretinal microvascular abnormalities (IRMA), capillary nonperfusion, arteriovenous nicking, and diabetic macular edema was evaluated based on fundus fluorescein angiography.
Results
The prevalence of VB in eyes with proliferative diabetic retinopathy (PDR), severe NPDR, and moderate NPDR was 41.3% (327/791), 5.9% (31/526), and 0% (0/295), respectively (
p
 < 0.001). Moreover, the proportion of VB in two or more quadrants was even lower (27.1% for PDR and 2.1% for severe NPDR,
p
 < 0.001), and among the total of 225 eyes with VB in two or more quadrants, 214 eyes (95.1%) were graded as PDR. Furthermore, VB formation was significantly correlated with capillary nonperfusion, duration of diabetes (both
p
 < 0.001), and smoking (
p
 < 0.05). After adjusting for age, sex, and other possible factors, VB (OR = 7.479,
p
 < 0.001) and IRMA (OR = 2.433,
p
 < 0.001) were determined as independent risk factors for developing PDR.
Conclusions
Our study suggested that VB in two or more quadrants might not be a sensitive grading criterion for severe NPDR among a Chinese population with type 2 diabetes. Nevertheless, VB has a great specificity to define an advanced form of DR.