01.06.2014 | Educational Review | Ausgabe 6/2014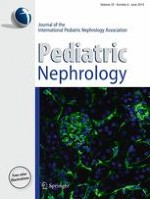 Venous thromboembolism in pediatric nephrotic syndrome
Zeitschrift:
Autoren:

Bryce A. Kerlin, Kellie Haworth, William E. Smoyer
Wichtige Hinweise
Questions (answers are provided following the reference list)
1. Overall, childhood VTE is associated with what increase in likelihood of in-hospital death?
a. 6 %
b. 6-fold (RR = 6)
c. 60 %
d. 16 %
e. 60-fold (RR = 60)
2. Approximately what percentage of pediatric VTE patients develop recurrent VTE?
a. 3 %
b. 52 %
c. 12 %
d. 71 %
e. 32 %
3. What is the strongest risk factor for pediatric VTE?
a. Presence of infection
b. Immobilization
c. Presence of anti-phospholipid antibodies
d. Heritable thrombophilia
e. Presence of a central venous catheter
4. For children with NS, the majority of clinically apparent VTE develop within how long after diagnosis?
a. 1 month
b. 6 months
c. 9 months
d. 3 months
e. 12 months
5. Antithrombin supplementation may become necessary with the use of which anticoagulants?
a. Warfarin
b. Vitamin K antagonists
c. Tissue-type plasminogen activator
d. Heparin
e. Aspirin
Answers:
1. B
2. C
3. E
4. D
5. D
Abstract
Childhood nephrotic syndrome (NS) is one of the most common pediatric kidney diseases, with an incidence of 2–7 per 100,000. Venous thromboembolism (VTE) is associated with significant morbidity and mortality, and occurs in ∼3 % of children with NS, though incidence approaches 25 % in high-risk groups. VTE etiology is multifactorial, with disease-associated coagulopathy thought to be a significant contributor. Other risks include age, disease severity, and treatment-related hazards, such as the presence of central venous catheters. Non-pharmacologic preventive measures such as ambulation and compression stockings are recommended for patients with identified VTE risks. Central venous catheters should be avoided whenever possible. Symptoms of VTE include venous catheter dysfunction, unilateral extremity symptoms, respiratory compromise, flank pain, and gross hematuria. When VTE is suspected, confirmatory imaging studies should be obtained, followed by appropriate laboratory evaluation and treatment. Therapeutic goals include limiting thrombus growth, extension, and embolization by early institution of anticoagulant therapy. Anticoagulation is recommended for a minimum of 3 months, but should be continued until NS remission is achieved. Further studies are necessary to identify VTE-risk biomarkers and optimal therapeutic regimens. Observational cohort studies are needed to identify VTE-risk groups who may benefit from thromboprophylaxis and to define disease-specific treatment algorithms.