01.02.2020 | Review Paper | Ausgabe 1/2020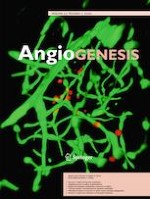 Vessel co-option and resistance to anti-angiogenic therapy
Zeitschrift:
Autoren:

Elizabeth A. Kuczynski, Andrew R. Reynolds
Wichtige Hinweise
Publisher's Note
Springer Nature remains neutral with regard to jurisdictional claims in published maps and institutional affiliations.
Abstract
Vessel co-option is a non-angiogenic mechanism of tumour vascularisation in which cancer cells utilise pre-existing blood vessels instead of inducing new blood vessel formation. Vessel co-option has been observed across a range of different tumour types, in both primary cancers and metastatic disease. Importantly, vessel co-option is now implicated as a major mechanism that mediates resistance to conventional anti-angiogenic drugs and this may help to explain the limited efficacy of this therapeutic approach in certain clinical settings. This includes the use of anti-angiogenic drugs to treat advanced-stage/metastatic disease, treatment in the adjuvant setting and the treatment of primary disease. In this article, we review the available evidence linking vessel co-option with resistance to anti-angiogenic therapy in numerous tumour types, including breast, colorectal, lung and pancreatic cancer, glioblastoma, melanoma, hepatocellular carcinoma, and renal cell carcinoma. The finding that vessel co-option is a significant mechanism of resistance to anti-angiogenic therapy may have important implications for the future of anti-cancer therapy, including (a) predicting response to anti-angiogenic drugs, (b) the need to develop therapies that target both angiogenesis and vessel co-option in tumours, and (c) predicting the response to other therapeutic modalities, including immunotherapy.