01.12.2017 | Research | Ausgabe 1/2017 Open Access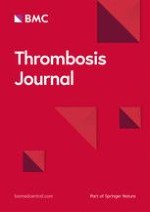 Video-assisted Thoracoscopic surgery (VATS) lobectomy for lung cancer does not induce a procoagulant state
Zeitschrift:
Autoren:

Thomas Decker Christensen, Henrik Vad, Søren Pedersen, Peter B. Licht, Mads Nybo, Kåre Hornbech, Nora Elisabeth Zois, Anne-Mette Hvas
Abstract
Background
Changes in the coagulation system in patients undergoing surgery for lung cancer have been sparsely investigated and the impact of the surgical trauma on the coagulation system is largely unknown in these patients. An increased knowledge could potentially improve the thromboprophylaxis regimes. The aim of this study was to assess the coagulation profile evoked in patients undergoing curative surgery by Video-Assisted Thoracoscopic Surgery
(
VATS) lobectomy for primary lung cancer.
Methods
Thirty-one patients diagnosed with primary lung cancer undergoing VATS lobectomy were prospectively included. The coagulation profile was assessed preoperatively and in the first two days postoperatively using a wide range of standard coagulation tests, dynamic whole blood coagulation measured by rotational thromboelastometry (ROTEM®) and thrombin generation evaluated by calibrated automated thrombography. Patients did not receive thromboprophylactic treatment. Data was analyzed using repeated measures one-way ANOVA.
Results
The standard coagulation parameters displayed only subtle changes after surgery and the ROTEM® and thrombin generation results remained largely unchanged.
Conclusions
Patients undergoing VATS lobectomy are normocoagulable in the preoperative state and a VATS lobectomy does not significantly influence the coagulation.
Trial registration
The trial is registered at ClinicalTrials.gov (Identifier:
NCT01741506
) and at EudraCTno. 2012–002409-23. Registered December 2012.