01.12.2018 | Case report | Ausgabe 1/2018 Open Access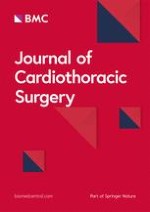 Video-mediastinoscopy assisted fish bone extraction and superior Medistinal abscess debridement
Zeitschrift:
Autoren:

Jun Wang, Wei Bing Wu, Liang Chen, Quan Zhu
Abstract
Background
Mediastinum abscess caused by sharp esophageal foreign body perforation usually needs surgical treatment, and the surgical procedures vary according to size of perforation and scope of abscess, etc. For special case with small esophageal mucosal crevasse and focal abscess confined to mediastinum, minimally invasive surgery with guidance of video-mediastinoscopy would be an alternative method, however, application of video-mediastinoscopy in this life-threatening situation was rarely reported.
Case presentation
One patient with detention of fish bone stuck in the esophagus developed systemic inflammatory response syndrome. Computed tomography results revealed that two high-density foreign bodies migrated extraluminally and caused abscess confined in the mediastinum. Multidisplinary collaborative efforts of anesthesiology, gastroenterology and thoracic surgery were made to optimize the therapeutic process. By taking advantages of wide working channel and better exposure of video-mediastinoscopy, two sharp fish bones were removed with minimal risk of injuring adjacent important tissues, furthermore, complete debridement of the abscess and precise drainage tube indwelling was achieved simultaneously. Postoperative comprehensive therapy including anti-infection and nutrition support guaranteed a smooth transition of perioperative period.
Conclusion
This is the first report on application of video-mediastinoscopy in removing two fish bones that migrated extraluminally and debridement of the abscess caused by esophagus perforation with minimal injury risk, which offer a safe and effective minimal invasive method for specific cases.