28.01.2020 | Laryngology | Ausgabe 4/2020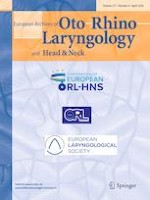 Videolaryngoscope-assisted coblation of epiglottic cysts
Zeitschrift:
Autoren:

Xiangming Meng, Qingbo Wen, Jianhong Gu, Yangyang Wang
Wichtige Hinweise
Publisher's Note
Springer Nature remains neutral with regard to jurisdictional claims in published maps and institutional affiliations.
Abstract
Purpose
This study aims to investigate the safety and effectiveness of videolaryngoscope-assisted coblation of epiglottic cysts (VACECs) under general anesthesia.
Methods
Twenty-eight consecutive patients with epiglottic cysts (ECs), underwent VACECs in this prospective clinical series from January 2015 to March 2019. The pre-operative electronic flexible laryngoscopic or 70° rigid laryngeal endoscopic examination was carried out to assess the location and size of ECs. There was a periodical follow-up survey for all patients.
Results
A total 28 of patients were enrolled, including 12 men and 16 women, with an average age of 55 (range 24–78). The patient's medical history ranged from half a month to 2 years. The size of the cyst arranged from 0.8 to 1.5 cm. All patients were cured without pharyngeal or systemic complications. No tooth loss occurred in five patients (17.9%) with loose anterior teeth. Specimen pathology confirmed the diagnosis in all patients. No recurrence was found after more than half a year's follow-up.
Conclusions
VACECs brings together the advantages of videolaryngoscope and coblation. It is a simple, safe and feasible procedure for patients with ECs and is worthy of clinical application.