01.12.2017 | Research | Ausgabe 1/2017 Open Access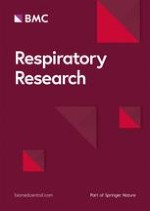 Vildagliptin ameliorates pulmonary fibrosis in lipopolysaccharide-induced lung injury by inhibiting endothelial-to-mesenchymal transition
Zeitschrift:
Autoren:

Toshio Suzuki, Yuji Tada, Santhi Gladson, Rintaro Nishimura, Iwao Shimomura, Satoshi Karasawa, Koichiro Tatsumi, James West
Wichtige Hinweise
Electronic supplementary material
Abstract
Background
Pulmonary fibrosis is a late manifestation of acute respiratory distress syndrome (ARDS). Sepsis is a major cause of ARDS, and its pathogenesis includes endotoxin-induced vascular injury. Recently, endothelial-to-mesenchymal transition (EndMT) was shown to play an important role in pulmonary fibrosis. On the other hand, dipeptidyl peptidase (DPP)-4 was reported to improve vascular dysfunction in an experimental sepsis model, although whether DPP-4 affects EndMT and fibrosis initiation during lipopolysaccharide (LPS)-induced lung injury is unclear. The aim of this study was to investigate the anti-EndMT effects of the DPP-4 inhibitor vildagliptin in pulmonary fibrosis after systemic endotoxemic injury.
Methods
A septic lung injury model was established by intraperitoneal injection of lipopolysaccharide (LPS) in eight-week-old male mice (5 mg/kg for five consecutive days). The mice were then treated with vehicle or vildagliptin (intraperitoneally, 10 mg/kg, once daily for 14 consecutive days from 1 day before the first administration of LPS.). Flow cytometry, immunohistochemical staining, and quantitative polymerase chain reaction (qPCR) analysis was used to assess cell dynamics and EndMT function in lung samples from the mice.
Results
Lung tissue samples from treated mice revealed obvious inflammatory reactions and typical interstitial fibrosis 2 days and 28 days after LPS challenge. Quantitative flow cytometric analysis showed that the number of pulmonary vascular endothelial cells (PVECs) expressing alpha-smooth muscle actin (α-SMA) or
S100
calcium-binding protein A4 (S100A4) increased 28 days after LPS challenge. Similar increases in expression were also confirmed by qPCR of mRNA from isolated PVECs. EndMT cells had higher proliferative activity and migration activity than mesenchymal cells. All of these changes were alleviated by intraperitoneal injection of vildagliptin. Interestingly, vildagliptin and linagliptin significantly attenuated EndMT in the absence of immune cells or GLP-1.
Conclusions
Inhibiting DPP-4 signaling by vildagliptin could ameliorate pulmonary fibrosis by downregulating EndMT in systemic LPS-induced lung injury.