01.12.2019 | Research | Ausgabe 1/2019 Open Access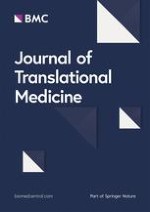 Virus-like vaccines against HIV/SIV synergize with a subdominant antigen T cell vaccine
Zeitschrift:
Autoren:

Melanie Schwerdtfeger, Anne-Marie Carola Andersson, Lasse Neukirch, Peter Johannes Holst
Wichtige Hinweise
Electronic supplementary material
Publisher's Note
Springer Nature remains neutral with regard to jurisdictional claims in published maps and institutional affiliations.
Abstract
Background
In non-human primates (NHPs) and humans, partial protection from HIV/SIV infection or suppression of replication is achievable by Env-binding antibodies and Gag-specific CD8+ T-cells targeting protective epitopes. Unfortunately, such T-cell responses are frequently dominated by responses to non-protective, variable epitopes. In this study we attempt to combine three independent approaches, each developed to prevent immunodominance of non-protective epitopes. These approaches were (1) vaccines consisting exclusively of putatively protective p24 Gag highly conserved elements (CEs), (2) vaccines using solely subdominant antigens which were acutely protective in a recent NHP trial, and (3) virus-encoded virus-like particle vaccines (virus-like vaccines/VLVs) using heterologous Env and Gag sequences to enable selection of broadly cross-reactive responses and to avoid immunodominance of non-conserved sequences in prime-boost regimens as previously observed.
Methods
We vaccinated outbred CD1 mice with HIV-1 clade B Gag/Env encoded in an adenoviral prime and SIVmac239 Gag/Env in an MVA boost. We combined this completely heterologous immunization regimen and the homologous SIVmac239 Gag/Env immunization regimen with an additional prime encoding SIV CEs and accessory antigens Rev, Vif and Vpr (Ad-Ii-SIVCErvv). T-cell responses were analyzed by intracellular cytokine staining of splenocytes and antibody responses by trimer-specific ELISA, avidity and isotype-specific ELISA.
Results
Env dominance could be avoided successfully in the completely heterologous prime-boost regimen, but Env immunodominance reappeared when Ad-Ii-SIVCErvv was added to the prime. This regimen did however still induce more cross-reactive Gag-specific CD8+ T-cells and Env-specific antibodies. Including Ad-Ii-SIVCErvv in the homologous prime-boost not only elicited accessory antigen-specific CD8+ memory T-cells, but also significantly increased the ratio of Gag- to Env-specific CD8+ T-cells. The CD4+ T-cell response shifted away from structural antigens previously associated with infection-enhancement.
Conclusion
The homologous Gag/Env prime-boost with Ad-Ii-SIVCErvv prime combined acutely protective CD8+ T-cell responses to subdominant antigens and Env-binding antibodies with chronically protective Gag-specific CD8+ T-cells in outbred mice. This vaccine regimen should be tested in an NHP efficacy trial.