01.12.2015 | Research | Ausgabe 1/2015 Open Access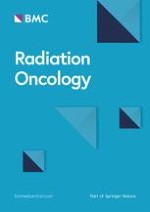 Visualization of data in radiotherapy using web services for optimization of workflow
Zeitschrift:
Autoren:

Stefan Kirrmann, Mark Gainey, Fred Röhner, Markus Hall, Gregor Bruggmoser, Marianne Schmucker, Felix E Heinemann
Wichtige Hinweise
Competing interests
All authors confirm that they have no financial and personal relationships with other people or organizations that could have inappropriately influenced their work.
Authors' contributions
SK: Conception, project design, programming of modules. MG: Conception, manuscript preparation. FR: Programming of modules. MH: Conception, project design, alpha- and beta-test. GB: Conception, project design. MS: Conception, project design, alpha- and beta-test. FH: Conception, manuscript preparation, project design and programming of modules. All authors read and approved the final manuscript.
Authors' information
Stefan Kirrmann (SK): IT-Specialist
Mark Gainey (MG): Physicist
Fred Röhner (FR): Senior Physicist
Markus Hall (MH): IT-Specialist
Gregor Bruggmoser (GB): Senior Physicist
Marianne Schmucker (MS): Senior Physician
Felix Heinemann (FH): Senior IT-specialist, Physician
Abstract
Background
Every day a large amount of data is produced within a radiotherapy department. Although this data is available in one form or other within the centralised systems, it is often not in the form which is of interest to the departmental staff. This work presents a flexible browser based reporting and visualization system for clinical and scientific use, not currently found in commercially available software such as MOSAIQTM or ARIATM. Moreover, the majority of user merely wish to retrieve data and not record and/or modify data. Thus the idea was conceived, to present the user with all relevant information in a simple and effective manner in the form of web-services. Due to the widespread availability of the internet, most people can master the use of a web-browser. Ultimately the aim is to optimize clinical procedures, enhance transparency and improve revenue.
Methods
Our working group (BAS) examined many internal procedures, to find out whether relevant information suitable for our purposes lay therein. After the results were collated, it was necessary to select an effective software platform. After a more detailed analysis of all data, it became clear that the implementation of web-services was appropriate. In our institute several such web-based information services had already been developed over the last few years, with which we gained invaluable experience. Moreover, we strived for high acceptance amongst staff members.
Results
By employing web-services, we attained high effectiveness, transparency and efficient information processing for the user. Furthermore, we achieved an almost maintenance-free and low support system. The aim of the project, making web-based information available to the user from the departmental system MOSAIQ, physician letter system MEDATECR and the central finding server MiraPlus (laboratory, pathology and radiology) were implemented without restrictions.
Conclusion
Due to widespread use of web-based technology the training effort was effectively nil, since practically every member of staff can master the use of a web-browser. Moreover, we have achieved high acceptance amongst staff members and have improved our effectiveness resulting in a considerable time saving.
The many MOSAIQ-specific parts of the system can be readily used by departments which use MOSAIQ as the departmental system.