29.05.2018 | Original Article | Ausgabe 6/2018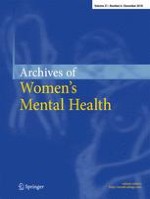 Vitamin D deficiency and depressive symptoms in the perinatal period
Zeitschrift:
Autoren:

Amy R. Lamb, Melanie Lutenbacher, Kenneth A. Wallston, Samuel H. Pepkowitz, Brett Holmquist, Calvin J. Hobel
Wichtige Hinweise
This paper was presented as a poster at the conference at the "35th Annual Pregnancy Meeting" presented by the Society for Maternal Fetal Medicine in San Diego, California, February 2nd through 7th of 2015.
Abstract
Depression affects 1 in 7 women during the perinatal period. Women with vitamin D deficiency may be at an increased risk for depression. This study investigated the relationship between maternal and cord blood 25-hydroxyvitamin D (25OHD) and maternal depressive symptoms over the perinatal period. Study objectives were to examine variations and relationships between maternal and cord blood vitamin D levels and maternal depressive symptoms over the perinatal period. At a large medical center in southern California, pregnant women (
N
 = 126) were recruited for this longitudinal cohort study. Depressive symptoms (Edinburgh Postnatal Depression Screen, EPDS) and vitamin D status (25OHD) were measured at three time points in the perinatal period: time 1 (T1;
N
 = 125) EPDS and 25OHD were collected in early pregnancy; time 2 (T2;
N
 = 96) EPDS was conducted in the third trimester with blood collected at time of delivery; and time 3 (T3;
N
 = 88) was collected postpartum. A significant inverse relationship between vitamin D status and depressive symptoms was observed between 25OHD and EPDS scores at all time points in this sample (T1 = − 0.18,
P
 = 0.024; T2 = − 0.27,
P
 = 0.009; T3 = − 0.22,
P
 = 0.019). This association remained after controlling for confounders. Low cord blood 25OHD levels were inversely associated with higher EPDS scores in the third trimester (
r =
 − 0.22,
P
 = 0.02). Clinicians may want to consider screening women diagnosed with vitamin D deficiency for depression and vice versa. Vitamin D may represent an important biomarker for pregnant and postpartum women diagnosed with depression. Further studies examining underlying mechanisms and supplementation are needed.