01.12.2017 | Research article | Ausgabe 1/2017 Open Access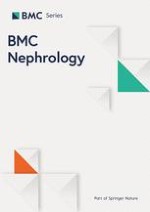 Vitamin E protects against extraskeletal calcification in uremic rats fed high fat diets
Zeitschrift:
Autoren:

Rafael Rios, Ana I. Raya, Carmen Pineda, Mariano Rodriguez, Ignacio Lopez, Escolastico Aguilera-Tejero
Abstract
Background
High fat diets are implicated in the pathogenesis of metabolic syndrome, obesity and renal disease. Previous studies have revealed that high fat diets promote vascular calcification in uremic rats. Moreover, vitamin E has been shown to prevent uremic calcifications in genetically obese Zucker rats fed standard diet. The objective of this study was to investigate the influence of vitamin E supplementation on the development of extraskeletal calcifications in non-obese (wild type) uremic rats fed high fat diets.
Methods
Wistar rats (
n
 = 32) were preconditioned by feeding either a normal (NF) or high fat (HF) diet for 45 days and subsequently were subjected to 5/6 nephrectomy (Nx). Just before performing the first Nx step, a blood sample (Pre-Nx) was obtained. After Nx rats were switched to a diet with 0.9% phosphorus and supplemented with calcitriol. Also, after Nx, half of the rats from each group (NF and HF) were treated with vitamin E (VitE) in the diet (30,000 mg/kg) and the other half were maintained on basic VitE requirements (27 mg/kg). Thus, rats were allotted to four experimental groups: Nx-NF (
n
 = 8), Nx-NF-VitE (
n
 = 8), Nx-HF (
n
 = 8) and Nx-HF-VitE (
n
 = 8). At the time of sacrifice (day 66), blood and tissue samples were obtained.
Results
Feeding a HF diet for 45 days did not increase body weight but elicited hyperglycemia, hypertriglyceridemia, an increase in plasma fibroblast growth factor 23 and a reduction in plasma calcitriol concentrations. After Nx, rats fed HF diet showed substantial extraskeletal calcification with aortic calcium content that was higher than in rats fed NF diet. Supplementation with VitE significantly (
p
 < 0.05) reduced aortic (from 38.4 ± 8.8 to 16.5 ± 1.4 mg/g), gastric (from 5.6 ± 2.7 to 1.2 ± 0.4 mg/g) and pulmonary (from 1.8 ± 0.3 to 0.3 ± 0.2 mg/g) calcium content in rats on HF diets.
Conclusions
Uremic rats fed HF diets developed more severe extraosseous calcifications than their normocaloric-fed counterparts and dietary VitE supplementation protected against uremic calcifications in rats fed HF diets. Thus, eating energy-rich foods should be discouraged in patients with renal disease and their deleterious effect may be ameliorated with adequate antioxidant supply.