23.08.2017 | Article | Ausgabe 11/2017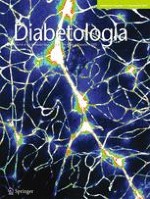 VLDL and apolipoprotein CIII induce ER stress and inflammation and attenuate insulin signalling via Toll-like receptor 2 in mouse skeletal muscle cells
Zeitschrift:
Autoren:

Gaia Botteri, Marta Montori, Anna Gumà, Javier Pizarro, Lídia Cedó, Joan Carles Escolà-Gil, Diana Li, Emma Barroso, Xavier Palomer, Alison B. Kohan, Manuel Vázquez-Carrera
Wichtige Hinweise
Electronic supplementary material
The online version of this article (doi:
10.​1007/​s00125-017-4401-5
) contains peer-reviewed but unedited supplementary material, which is available to authorised users.
Abstract
Aim/hypothesis
Here, our aim was to examine whether VLDL and apolipoprotein (apo) CIII induce endoplasmic reticulum (ER) stress, inflammation and insulin resistance in skeletal muscle.
Methods
Studies were conducted in mouse C2C12 myotubes, isolated skeletal muscle and skeletal muscle from transgenic mice overexpressing apoCIII.
Results
C2C12 myotubes exposed to VLDL showed increased levels of ER stress and inflammatory markers whereas peroxisome proliferator-activated receptor γ co-activator 1α (PGC-1α) and AMP-activated protein kinase (AMPK) levels were reduced and the insulin signalling pathway was attenuated. The effects of VLDL were also observed in isolated skeletal muscle incubated with VLDL. The changes caused by VLDL were dependent on extracellular signal-regulated kinase (ERK) 1/2 since they were prevented by the ERK1/2 inhibitor U0126 or by knockdown of this kinase by siRNA transfection. ApoCIII mimicked the effects of VLDL and its effects were also blocked by ERK1/2 inhibition, suggesting that this apolipoprotein was responsible for the effects of VLDL. Skeletal muscle from transgenic mice overexpressing apoCIII showed increased levels of some ER stress and inflammatory markers and increased phosphorylated ERK1/2 levels, whereas PGC-1α levels were reduced, confirming apoCIII effects in vivo. Finally, incubation of myotubes with a neutralising antibody against Toll-like receptor 2 abolished the effects of apoCIII on ER stress, inflammation and insulin resistance, indicating that the effects of apoCIII were mediated by this receptor.
Conclusions/interpretation
These results imply that elevated VLDL in diabetic states can contribute to the exacerbation of insulin resistance by activating ERK1/2 through Toll-like receptor 2.